Dialogues with Artists: Kim Flora and Helena Cline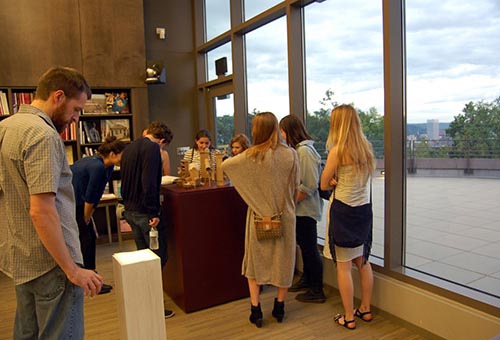 Thursday, January 9, 2020 at 6:30–7:30 p.m.
At this event you will have an opportunity to hear from two artists as they articulate an answer to the question: why do you make art and how does it determine your connection to your audience? Also, take an up-close look at their work. This popular event, now in its seventh year, moved to Thursday's evenings, as the museum stays open till 8 p.m. 
Informal conversation with artists is encouraged. Wine and cheese served. Free. Reservations not required.
This event takes place in the Mary R. Schiff Library & Archives.
About the artists: 
Kim Flora
A graduate of the Art Academy of Cincinnati, Ms. Flora received honors in both Fine Art and Art History and currently serves as Head of Installation, at the Cincinnati Art Museum.  Originally from Baltimore, Maryland, the industrial coastline continues to inform her work.  Ms. Flora has exhibited at Wright State University, the University of Wisconsin, the Carnegie Arts Center, Manifest Gallery, Wave Pool, as well as the Cincinnati Art Museum.  She was awarded a summer studio in Munich, Germany, through the Academy of Fine Arts, Munich and received a City of Cincinnati Individual Artist Grant in 2008.  Flora's work can be found in numerous private and public collections including Baltimore County Public Schools, Tente International, the Cincinnati Art Museum, and Jack Casino.
She makes paintings that capture the atmosphere and vibration of her surroundings, with a particular interest in the intersection of nature and architecture. Works are constructed through multiple layers of collage, pigmented wax, and paint that is brushed, scraped, gouged, poured, cut and otherwise manipulated to both revealing and concealing ends. This active, multimedia approach to image making serves to realign fragments of personal narratives while providing space for the viewer to reflect on their own memories and experiences.
Halena Cline
Halena Cline has worked as a studio artist for most of her adult life. She has a studio at Pendelton Art Center in Cincinnati since 1990. Since her first solo show at The Carnegie Arts Center in Covington KY in 1982, her work has shown in many Cincinnati venues and elsewhere in the States: Montana, California, Alabama, among others.  She's had international exhibits in both Cyprus and Germany. Her work is held in many national and international collections.
She produces work by using mediums that are experimental as well as those that are more traditional, used in a creative way. There is an underlying spiritual quality and philosophy at work in her paintings and ceramic sculptures. Things she likes to focus on are innocence, spirituality, and the influence of things that are often undetectable. There is an illusory slant to her work. Her penchant to put incongruent things into paintings, creating a paradox, is intended to persuade the viewer to analyze how the foreground and background might be related; sort of a mental puzzle.
She maintains a dedication in her work to children's and women's issues and those that are vulnerable in today's society. 
Add to Calendar