Dialogues with Artists: Ana England and Steven Finke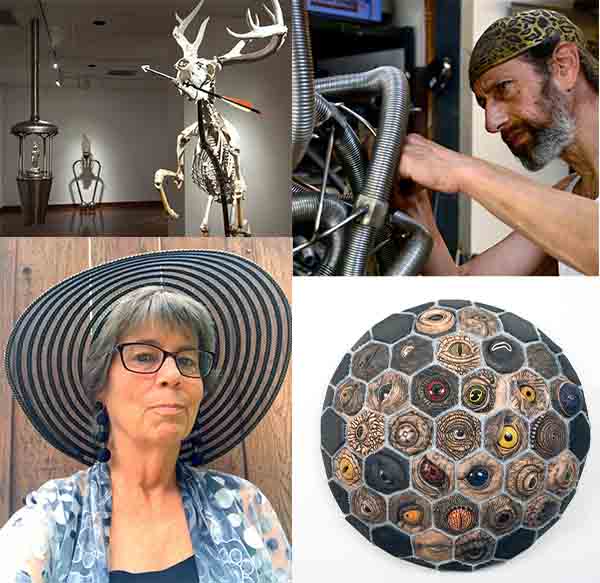 9/20/2018 at 6:30 p.m.–7:30 p.m.
In the Mary R. Schiff Library Dialogues with Artists | 6:30 – 7:30
At this event you will have an opportunity to hear two artists to articulate an answer to the question "Why do you make art and how does this determine your connection to your audience?", as well as see up close their work. This popular event, now in its fifth year, moved to Thursday's evenings, as the museum stays open till 8 p.m.
September 20, 2018 | 6:30–7:30 p.m.
Ana England
Professor Emerita at Northern Kentucky University, she holds MFA from San Jose University. Her numerous shows include shows at Miami University Art Museum, Nexus Contemporary Art Center in Atlanta and most recently a solo exhibition "Ana England: Kinship" at the Cincinnati Art Museum. Her work is widely reviewed in regional and national journals. She has given many lectures and workshops.
In her own words, "the word that best describes what I am exploring in my work is kinship.  That which connects us seems to me to be much stronger than that which separates us. When I see the curl of a galaxy imprinted in my fingerprints, realize that my bones are similar in structure to those of a mouse and contemplate that minute solar systems are embedded in the atoms creating my cells, I sense a community that transcends race, nationality and species identification." 
Steven Finke
Born in New York City, he received BFA in Ceramics from Ohio University and a MFA in Ceramics from the University of Miami, and has taught sculpture at Northern Kentucky University since 1993.
While exploring ideas connected to impermanence and mortality and reading from a variety of spiritual traditions he was most drawn to "The Tibetan Book of the Dead".  He has been making sculptures that are intended to enhance reflection on impermanence in a visceral way. This is based on the conviction that consideration of impermanence and death will lead to creative and sustainable living.  His work ranges from large environmental installations to small intimate hand-held objects.  He lives in southwestern Ohio with his wife Ana England where he is involved in a long-term project that integrates art and the forest in a sculptural meditation on impermanence.
Informal conversation with artists is encouraged. Wine and cheese served. Free. Reservations not required.
Image credit: Ana England, See, 2011, ceramic and mixed media, 28"x28"x11", Collection of Sara and Michelle Vance Waddell
Image credit: Steven Finke, Deer and Deer Buddha,  2013,  Bronze, Stainless Steel and Skeleton
Add to Calendar