Evenings for Educators: Collecting Calligraphy: Arts of the Islamic World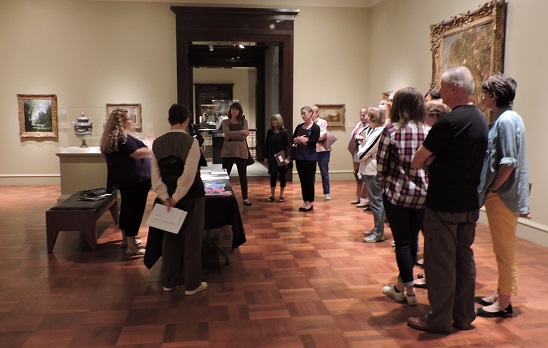 9/20/2018 at 4 – 7 p.m.
Explore richly illuminated folios from poetic and historic manuscripts, pages from the Qur'an, calligraphic practice sheets and political decrees in Collecting Calligraphy: Arts of the Islamic World. Ainsley Cameron, Curator of South Asian Art, Islamic Art & Antiquities will discuss the exhibition, which features works on paper that date from the 9th through the 19th century, from a myriad of countries; including India, Turkey, Iran, Spain and Syria. After the presentation enjoy a docent-guided tour including museum teacher stations.
Members $10, students $5, general admission $20. Reservation required.
Series Pricing (all 8 sessions): $70 for members, $150 for general admission
If paying out of pocket for the ENTIRE SERIES, please call (513) 721-ARTS to register.
If your school will be paying for your Evenings for Educators and/or Membership registration, please CLICK HERE to fill out our invoice request.
***We strongly encourage calling or submitting invoice requests for series registration by 9/10/2018. Series registration will still be accepted after 9/10/18, but only for the remaining programs in the series. We appreciate your understanding.***
Add to Calendar
Purchase Tickets