Symposium in Conjunction with Paintings, Politics and the Monuments Men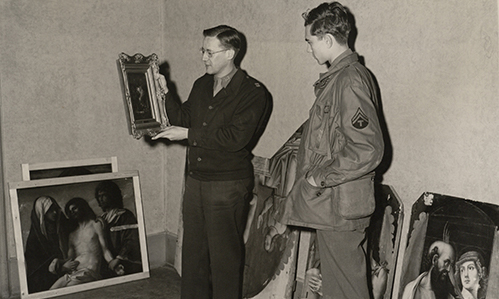 Friday, September 24, 2021 at 10:00 a.m. – 5:00 p.m.
UPDATE: In response to rising cases of COVID-19, this program will now be online only. You will receive a link to the symposium via email after registration and closer to the program date.

This day-long symposium will delve into themes of the exhibition, Paintings, Politics and the Monuments Men. Speakers from museums and universities will explore interdisciplinary connections that link the past to the present through art as diplomacy, current restitution efforts, and art and cultural heritage law. Richard Kurin, Under Secretary for History, Art, and Culture and Ambassador at large for the Smithsonian Institution will present the keynote address.

Members: $15
Non-members: $30
Students: Free

Reservations are required.
If you need accessibility accommodations for this event, please email [email protected]. Please contact us at least two weeks in advance to ensure accommodations can be made.
Add to Calendar
Purchase Tickets