Moving Images: Outrage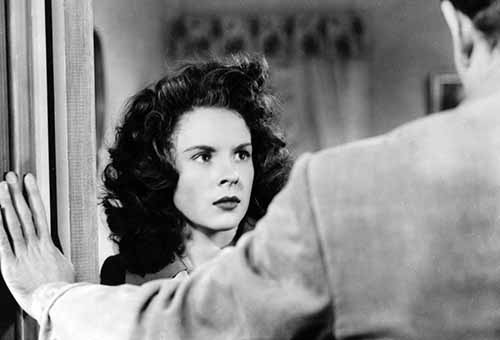 Thursday, December 5, 2019 at 7 p.m.
Women Breaking Boundaries Film Series
Presented in partnership with Women in Film Cincinnati, this four-part series focuses on films directed by women and celebrates leaders and pioneers both on screen and behind the camera. Each event will close with a discussion with guests from the community and invited guests, including filmmakers and scholars.
OUTRAGE
Directed by Ida Lupino, 1950, 75 minutes
Content warning: This film contains scenes that evoke sexual violence. This film focuses on the experience of a survivor of rape.
When protagonist Ann Walton (Mala Powers) walks home from work one night, a stalker, who has made unwanted passes at her, assaults her. Lupino, who also co-wrote the script, follows Ann in the days after, offering an examination of rape culture in a time when—due to the strictures of the Motion Picture Production Code (Hays Code)—it was not permissible to even speak the word "rape" in a feature film.
Lupino was a trailblazing indie director, writer, and producer. A remarkable presence at the height of the Hollywood system, her career encompasses a number of "firsts," including first woman to join the Director's Guild in sound era Hollywood, and first and only woman to direct an episode of The Twilight Zone.
After the film, join for a discussion with special guest Dr. Nicole Richter, moderated by Jaime Meyers Schlenck.
Jaime Meyers Schlenck's editing career spans more than two decades in both Los Angeles and Cincinnati. She has edited feature documentary including the Primetime Emmy Award winning series A Lion in the House, TV series including HBO First Look, and more than 60 behind-the-scenes documentaries for major studio releases. Schlenck is a co-founder and board member of Women in Film Cincinnati.
Dr. Nicole Richter is a leading international film scholar whose research focuses on women, gender and sexuality in cinema. She is the Head of the Tom Hanks Center for Motion Pictures at Wright State University and Professor of Film Studies, and she is the founder of Kino Femme, a women's filmmaker collective, and Kino Queer.
Add to Calendar