Moving Images: Easy Rider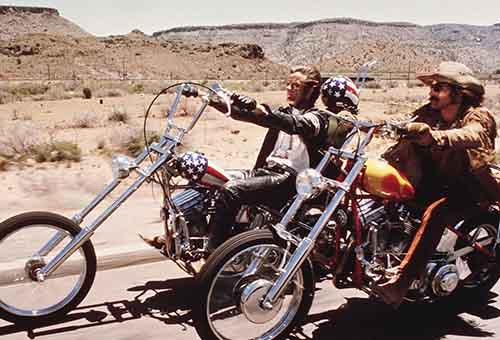 Thursday, June 20, 2019 at 7 p.m.
Directed by Dennis Hopper, 1969, 94 minutes. Rated R
Hippie bikers trip from L.A. to New Orleans in search of the meaning of American freedom.
Set against a 1960s rock score and spectacular Southwest landscapes, with improvised dialogue and an anti-authoritarian backbone, Easy Rider squarely embodies New Hollywood style.
Dennis Hopper's directorial debut, the film was awarded Best First Work at the 1969 Cannes Film Festival. It garnered Academy Award nominations for its original screenplay, co-authored by Peter Fonda, Dennis Hopper, and Terry Southern, and for outstanding supporting actor performance by Jack Nicholson. Easy Rider entered the US National Film Registry in 1998.
Stan Corkin, UC Niehoff Professor of Film and Media, will introduce the film. Join us!
About Moving Images: 
Moving Images is a film series that occurs on the first Thursday of every month. Cincinnati Art Museum curators host screenings of new and classic films that are in dialogue with art. These include documentaries about artists or art-world topics, feature-length films and videos by artists, and films with a thematic or conceptual connection to art currently on view in the museum.
Please enter the museum through the DeWitt entrance – visitors will meet in the Fath Auditorium.
FREE and open to the public. Reservations not required. Seating is limited and is first come, first served.
Cash bar available beginning at 6:00; beverages are permitted in the theater during screening.
Add to Calendar