Summer Teacher Institute: Myths & Mythology: Traveling the Ancient World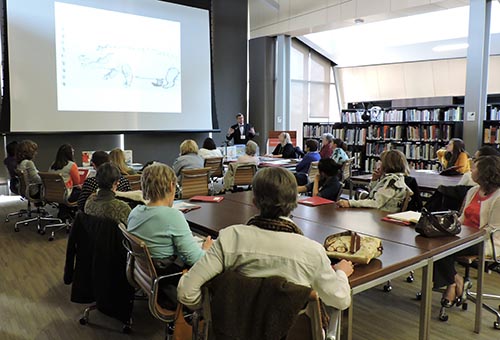 Every day from Tuesday, July 16, 2019 to Thursday, July 18, 2019 at 8:30 a.m.–3:00 p.m.
17th Annual Summer Teacher Institute
Tuesday, July 16-Thursday, July 18, 2019
Myths and Mythology: Traveling the Ancient World
In July, educators will explore myths using the Cincinnati Art Museum collection. From Egypt, Greece, Rome and the ancient Near East to the art of the Islamic world, teachers will enjoy an interactive walk through history, focusing on the conserved art and artifacts, epic poems and geography of the ancient world. 
Teachers of all grade levels and disciplines, homeschool teachers, art advocates, art appreciation volunteers, pre-service education majors and teaching artists, as well as community and museum educators, are encouraged to attend. The program will investigate diverse teaching strategies for object-based learning as well as STREAM (Science, Technology, Reading, Engineering, Art, Math) connections for the Pre-K through the 12th-grade classroom.
Teachers will participate in docent-guided tours, guest speaker presentations and art-making workshops.
The goal of the Summer Teacher Institute is to empower teachers to try new concepts, as well as to recharge their creative energy before the new school year begins. All attendees will receive lesson plans of the art-making sessions, as well as worksheets and helpful handouts. CEU certificates will be awarded at the conclusion of the program. Graduate credit is available through Ashland University.

$125 General Adult; $65 Museum Member; $50 College Student.
Non-members qualify for an Early Bird discount of 10%! Register before Friday, June 7 by 5 p.m. Enter discount code STI2019 at checkout.

Reservations required. Registration includes all three days; no single-day registration. Register using the "Purchase Tickets" link or by calling (513) 721-ARTS. 
For more information, please call (513) 639-2974 or email [email protected]
Add to Calendar