CAM Kids Day Online:
Black
History Month
Presented by:

Welcome to CAM Kids Day Online. This month is Black History Month, so we are celebrating talented the Black artists and heroes that make our culture diverse and rich.  Check out the activities below to learn and play!
The Children's Theatre of Cincinnati Presents
Harriet Tubman: Straight Up Outta' The Underground
This special presentation will only be available from February 5–7.
Bring the past to the present and change the future with this one-woman interactive storytelling experience. Uncover the truth about America's 200-year-old struggle with slavery in this historic retelling. On this journey, you'll follow Harriet Tubman, the most recognized conductor of the Underground Railroad. Nicknamed "Moses," Harriet Tubman lived up to her name by gaining her own freedom, as well as traveling back and forth from North to South over 19 times and freeing over 300 slaves!
 

Storytime at Home from the Cincinnati and Hamilton County Public Library:
In this video Miss Kim from the Mariemont branch reads "The Undefeated" by Kwame Alexander 
Celebrate TBD with Happen, Inc
PROGRAM DETAILS COMING SOON 
Black Art History Scavenger Hunt
Learn about some of the artwork in the museum's collection made by black artists. Can you find these artworks in the galleries?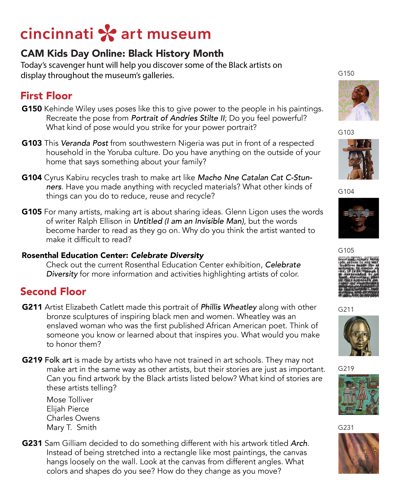 Black Family: The Love
by Antwoine Washington
Learn about this new artwork in the museum's collection from museum docent, Susan Monton. This video is a part of our daily CAM Look series of videos.  
Charles Mingus
by Lee Friedlander:
Learn about this photograph of famous Jazz legend, Charles Mingus from Andrew Palamara, Associate Director of Docent Learning. This video is a part of our daily CAM Look series of videos.