Cincinnati Art Museum Community Connections: Volunteer, Docent and Affiliate Group Open House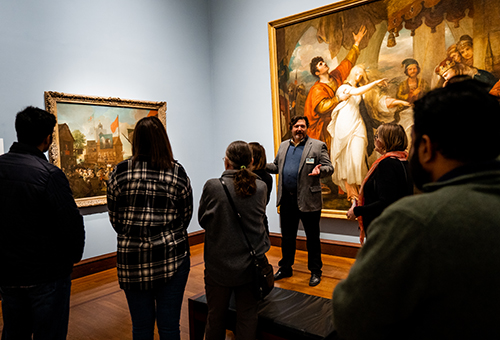 Thursday, March 23, 2023 at 6–8 p.m.
Volunteers are vital to the Cincinnati Art Museum, and we are looking for more art lovers to join our team! Individuals 18 and older are invited to an open house to learn more about the museum's volunteer opportunities, docent recruitment, and affiliate groups. Responsibilities and assignments range from ensuring positive visitor experiences, working with kids, increasing the museum's involvement with diverse communities, sharing encyclopedic knowledge of art collections, and more. Volunteer commitments can begin at just once a month.
Interested in becoming a docent? These volunteer educators lead tours and programs for museum visitors. Candidates can apply beginning late March through April 30 here. Learn more about our Docent Corps at our open house.  
Volunteer and affiliate groups represented at the open house include: Docent Corps, Visitor Service Aides, REC Volunteers, Donald P. Sowell Committee, Duveneck Association, and Women's Committee.
Snacks will be provided. Most groups require a museum membership and dues to join, but these may be waived given financial circumstances.
If you need accessibility accommodations for this event, please email [email protected]. Please contact us at least two weeks in advance to ensure accommodations can be made.
Add to Calendar