See Play Learn Kits
Available on-demand
Free.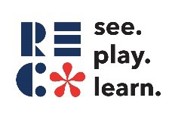 See Play Learn Kits are gallery activity totes designed to encourage creative discussion and learning in the galleries of the Cincinnati Art Museum! See Play Learn Kits can be checked out from the Visitor Services Desk.
Objectives of See Play Learn Kits
Promote an active learning experience for kids and their families in the museum
Encourage creative interactions between family members
Help families "slow down" in the museum and have meaningful experiences with works of art
Provide a positive museum experience that encourage future visits
Make the galleries more accessible to kids
Different elements in kits encourage families to check out kits on multiple visits
What are See Play Learn Kits?
Clear tote bags that contain hands-on activities and critical thinking tools.
Families can check them out from the front desk (or the REC) to use during their visit. One kit per family—there are enough activities in one kit for an entire family to utilize. Please do not mix and match items.
Elements of the See Play Learn Kits will remain the same. Other elements will be updated monthly and/or yearly.
Kits are designed to be used in any gallery—or in special exhibitions. Most activities do not relate to specific works of art.
Kits are all slightly different (different question flashcards, different books, different puzzles).
Each child gets a sketchbook (to take home) when they check out a See Play Learn Kit. Only the sketchbook and one fidget can be taken home.
See Play Learn Kits cannot leave the building.
When returning the SPL Kit, please do a quick visual assessment to make sure nothing is missing or damaged.
If something needs to be fixed in the kit, please let a Visitor Services Associate know.
Kits will not be handed out during Wee Wednesdays and Family First Saturdays.
What is inside a See Play Learn Kit?
Museum Map
Museum Guidelines
Photofilters
WordBubbles
Looking Tools
Colored Pencils
Pencils
Pencil Sharpener
Erasers
CAM Notebook
Stencils
Dress Doll
Face Swap
Learn Booklet