Guided Reflections: Bianca Edwards from Sacred Apothecary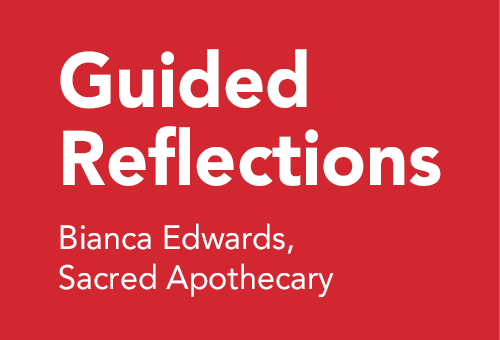 Saturday, December 11, 2021 at 11 a.m.–1 p.m.
Bianca Edwards from Sacred Apothecary will facilitate Guided Reflections on December 11.
We understand that the works in the Kara Walker: Cut to the Quick Exhibition are complex, challenging, and possibly triggering—so we invite you into the Community Care Space. The Community Care Space is a quiet space for you to reconnect to the rhythm of your own breathing, to rest, and reflect. If you need a break, you can drop in at any point during your visit to the exhibition. Located in Gallery 232.
Admission is included with special exhibition ticket purchase ($6–$12, free for members). Purchase tickets to the exhibition here.
Guided Reflections
For those looking for a guided experience, Bianca Edwards from Sacred Apothecary will facilitate the space on Saturday, November 6 from 11 a.m.–1 p.m.
About Bianca Edwards and Sacred Apothecary
Together we will be offering our bodies and minds a space for breath and reflection. Sinking into what they feel, need and want in this moment. What is the wisdom they are offering us and what do we do with it? A part of this offering will include storytelling, breath work, curiosity and grounding. Visit Sacred Apothecary.
Add to Calendar