Impact Circles | All Things Being Equal…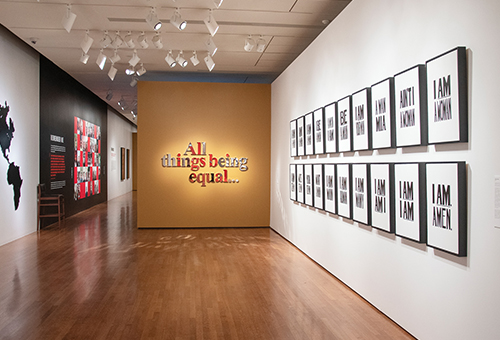 Thursday, October 1, 2020 at 7–8 p.m.
This is a virtual event.
Participate in a new kind of serial conversation program in which we seek insight and work together to identify concrete, locally relevant and achievable actions toward change.
Each Impact Circle begins with a live-streamed panel discussion examining a topic relating to Hank Willis Thomas' artwork and current events. At the conclusion of each discussion, panelists frame a question for audience members. Over the following weeks, we encourage motivated audience members to organize breakout Circles to explore the question with people they are connected to, whether through a workplace, classroom, faith community, social group, or other context. Key insights and action points from breakout Circles will be collected and shared with the public to amplify potential impact.
Topic:
Take a closer look at what kind of political participation is required of us now and how else we can contribute to our communities through civic life.
Join Eric Kearney, CEO/President of the African American Chamber of Commerce and former State Senator; Mike Morowski, Cincinnati Public School Board member; and moderator Eileen Cooper Reed for a panel discussion exploring political process – what it means, how we engage with it, and how it intersects with art and culture. 
Learn more about Impact Circles
Add to Calendar