Moving Images and Mayerson JCC Jewish & Israeli Film Festival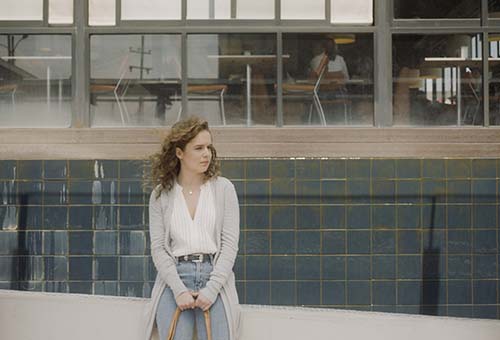 Thursday, February 13, 2020 at 7:30 p.m.
Leona
Directed by Isaac Cherem, 2018, 95 minutes. Spanish with English subtitles
A young woman from Mexico City finds herself torn between her Syrian-Jewish family and forbidden love in this intimate drama. She is forced to negotiate the labyrinth of familial pressure, religious precedent, and her own burgeoning sentiment as she discovers the world outside the bubble of her community and struggles to find the right path on this journey of self-discovery and female empowerment.
The Outer Circle
Directed by Adam Baroukh, 2017, 13 minutes
Midway through a grueling Orthodox conversion, Daniel and his fiancée Katherine are eager to gain the blessing of his intimidatingly large and loud Iraqi Jewish family. At their annual Rosh Hashanah feast, Katherine's natural elegance and 'English English' heritage immediately endears her to them, but it soon becomes apparent that beneath the warm and welcoming atmosphere, some are not ready as others to accept her.
Join us for a post-film discussion led by Valerie Weinstein, Associate Professor in the Department of Women's, Gender, and Sexuality Studies and affiliate faculty in German Studies, Judaic Studies, and Film and Media Studies at the University of Cincinnati.
Valerie Weinstein is the author of Antisemitism in Film Comedy in Nazi Germany (Indiana University Press, 2019), co-editor, with Barbara Hales and Mihaela Petrescu, of Continuity and Crisis in German Cinema 1928-1936 (Camden House, 2016) and co-editor, with Barbara Hales, of forthcoming volume Rethinking Jewishness in Weimar Cinema (Berghahn Books, 2020). Weinstein has authored articles and book chapters on topics including gender, sexuality, and Jewishness in German film between the two world wars.
This is a ticketed event. For tickets, please visit Mayerson JCC here.
Cash bar available beginning at 6:00; beverages are permitted in the theater during screening. Please enter the museum through the DeWitt entrance – visitors will meet in the Fath Auditorium.
Add to Calendar