Moving Images: The Train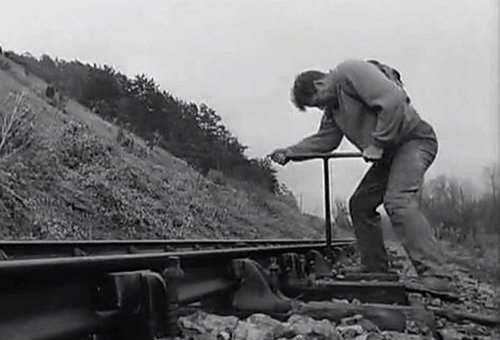 Thursday, September 23, 2021 at 7:30 p.m.
THE TRAIN
Directed by John Frankenheimer, 1964, 133 minutes. Unrated; includes scenes with violence
Film introduction by Dr. Valerie Weinstein
Join for an open-air screening of John Frankenheimer's 1964 thriller, The Train. Inspired by the memoires of art historian and French Resistance spy Rose Valland, the plot centers on a railway Resistance worker's fight to stop a train shipment of French works of art to Germany. Starring Burt Lancaster and Paul Scofield.
Special guest Valerie Weinstein will introduce the film, exploring its portrayal of the intersections of art, nations, and power.
Valerie Weinstein is Professor of Women's, Gender, and Sexuality Studies and Niehoff Professor of Film and Media Studies at the University of Cincinnati. She is the author of Antisemitism in Film Comedy in Nazi Germany (Indiana University Press, 2019), co-editor, with Barbara Hales and Mihaela Petrescu, of Continuity and Crisis in German Cinema, 1928-1936 (Camden House, 2016) and co-editor, with Barbara Hales, of Rethinking Jewishness in Weimar Cinema (Berghahn Books, 2021). Weinstein has authored articles and book chapters on topics including gender, sexuality, and Jewishness in German film between the two world wars.
Presentation begins at 7:45 p.m.; feature film begins at 8:00 p.m.
FREE and open to the public. Reservations not required. Seating is limited and is first come, first served.
*This event is outdoors in the CAM parking lot, near the top of Art Climb. In the event of rain/severe weather, this event will be canceled.
Guests should bring their own chairs/seating. Refreshments available for purchase.
If you need accessibility accommodations for this event, please email [email protected]. Please contact us at least two weeks in advance to ensure accommodations can be made.
Add to Calendar