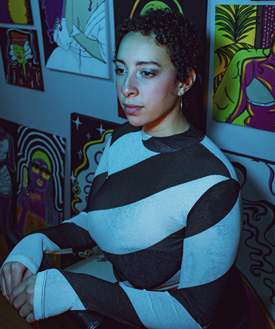 Caramel. Queer. Citizen of the Planet.
(She/Her/They/Them)
Hannah "Jonesy" Jones is a 27-year-old mixed race queer artist and intersectional feminist currently based in Cincinnati, OH. Her work fantasizes a world that thrives outside basic hetero-normative thinking. She uses loud, vivid, saturated, pop imagery to tell stories that illuminate and dignify ALL HUMANS on every level of the spectrum who are visualized happily thriving in full flying, glorious colors outside the rigid black and white boxes society places on them and their identities.
Jonesy wants her audience to see something positive and exciting in her work and feel SEEN and embraced and celebrated for the unique colors of their existence. She encourages you to see yourself in living color.
She is grateful and honored for the opportunity to be in the graces of such talented, beautiful, BLACK magical beings.
Submitted September 2020