Art, Climb, VOTE: Mobile Voter Hub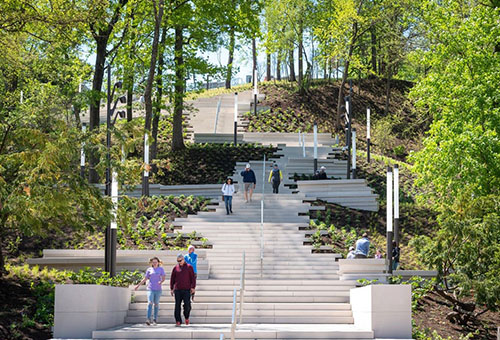 Saturday, October 3, 2020 at 11 a.m.–2 p.m.
This is an in-person event. 
Local artists encouraging voter participation will lead art activities during a new event, Art, Climb, VOTE, at the base of Cincinnati Art Museum's Art Climb on Saturday, Oct. 3 from
11 a.m.–2 p.m.
The event is free and open to the public and occurs in partnership with For Freedoms as part of The 2020 Awakening, Wave Pool, and ArtWorks.
The ArtWorks Hear Me Out mobile voter registration hub will be stationed at the bottom of the Art Climb steps at the corner of Gilbert Avenue and Eden Park Drive to help visitors complete the voter registration process.
Activities will include a chance to paint VOTE signs by House of Friends Cincinnati and tamales from The Welcome Project, a yard sign giveaway by PSA (Public Service Artists), and free Moon Festival moon cakes courtesy Greater Cincinnati Chinese Cultural Exchange Association. Coloring pages will also be distributed by Art On The Streets.
Parking is available along Eden Park Drive and Gilbert Avenue and in the museum's rear lot. A voter registration station is also present in the Cincinnati Art Museum front lobby and is accessible during all museum open hours, through Sunday, Oct. 4.
Add to Calendar