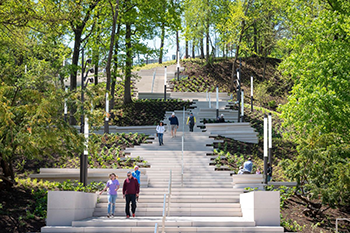 CINCINNATI— Local artists encouraging voter participation will lead art activities during a new event, Art, Climb, VOTE, at the base of Cincinnati Art Museum's Art Climb on Saturday, Oct. 3 from
11 a.m.–2 p.m.
The event is free and open to the public and occurs in partnership with For Freedoms as part of The 2020 Awakening, Wave Pool, and ArtWorks.
The ArtWorks Hear Me Out mobile voter registration hub will be stationed at the bottom of the Art Climb steps at the corner of Gilbert Avenue and Eden Park Drive to help visitors complete the voter registration process.
Activities will include a chance to paint VOTE signs by House of Friends Cincinnati and tamales from The Welcome Project, a yard sign giveaway by PSA (Public Service Artists), and free Moon Festival moon cakes courtesy Greater Cincinnati Chinese Cultural Exchange Association. Coloring pages will also be distributed by Art On The Streets.
Parking is available along Eden Park Drive and Gilbert Avenue and in the museum's rear lot. A voter registration station is also present in the Cincinnati Art Museum front lobby and is accessible during all museum open hours, through Sunday, Oct. 4.
About our event partners:
Wave Pool pairs communities' knowledge of their needs with artists' sense of possibility. They are best known for initiating and supporting artist driven creative place-making projects and working with partner organizations to tackle tough problems through asset based development and center artist-driven solutions.
For Freedoms is an artist-led organization that models and increases creative civic engagement, discourse and direct action. They work with artists and organizations to center the voices of artists in public discourse, expand what participation in a democracy looks like, and reshape conversations about politics.
ArtWorks is an award-winning Greater Cincinnati nonprofit that transforms people and places through investments in creativity. Hear Me Out is a guide by and for young people voting in Ohio. The goal of the guide and the mobile voter registration hub is to empower young people in civic participation and to amplify their political engagement and advocacy efforts.
About the Cincinnati Art Museum
The Cincinnati Art Museum is supported by the generosity of individuals and businesses that give annually to ArtsWave. The Ohio Arts Council helps fund the Cincinnati Art Museum with state tax dollars to encourage economic growth, educational excellence and cultural enrichment for all Ohioans. The Cincinnati Art Museum gratefully acknowledges operating support from the City of Cincinnati, as well as our members.
Free general admission to the Cincinnati Art Museum is made possible by a gift from The Rosenthal Family Foundation. Special exhibition pricing may vary. Parking at the Cincinnati Art Museum is free. Visit cincinnatiartmuseum.org for more information.
# # #