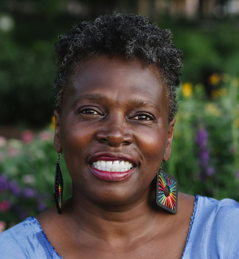 Annie Ruth is an internationally respected artist and arts educator based in Cincinnati, Ohio. Her work positively influences audiences in Europe, Africa, and throughout the United States. For over 40 years, she has been using her artistic talents to impact the world. She is also an award-winning author who has published over forty volumes of poetry, books and articles for both children and adults. Her arts and education curriculum sets are used in educational and cultural institutions around the world.
She studied graphic design at the University of Cincinnati, College of Design Architecture and Art and served eight years in the United States Air Force Reserves. She is a trailblazer who has received critical acclaim for her work in the community. Annie Ruth earned a Bachelor of Arts Degree in Interdisciplinary Studies from National University in San Diego, California. She fuses her artistic talents with arts education and collaborates with major cultural institutions and museums to bring art directly to communities throughout the United States and abroad.
Annie Ruth has exhibited in major national and international museums, institutions and venues including the National Afro American Museum & Cultural Center, Cincinnati Museum Center and National Underground Railroad Freedom Center. Her commissioned works are in the collections of Fifth Third Bank, Cincinnati Children's Hospital, Children's for Children/Procter & Gamble, the Presbyterian Foundation, and numerous other corporate and private collectors.  
Submitted September 2020 
Photo: Nikita Gross