ART360 is one of my personal favorite programs at the Cincinnati Art Museum. It allows for a small group of people to come together in a gallery, and spend an hour with one work of art. Some people might shudder at the idea of spending that much time with one artwork, but I think most are pleasantly surprised by how much there is to see and think about in each work in the Art Museum.
On March 22nd I had the delight of discussing Rufino Tamayo's Dancers Over the Seawith about 15 enthusiastic and inquisitive people during an ART360 program. I should also say a large number of them happen to be Docents here at the Art Museum, and as the Assistant Director of Docent Learning I know them all quite well and I want to thank them for participating and for bringing such thoughtful insight into the discussion.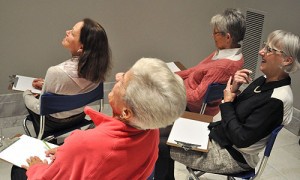 One of my hopes in people visiting our museum, or any museum, is that they are inspired. This might manifest in creating art or other creative pursuits, or perhaps in just thinking about art or the world in new ways. In this gallery talk I wanted to incorporate creative writing as an outlet for our inspiration. This idea sprung from my research on Tamayo, who spoke of poetry and metaphor in his paintings.
We began our discussion by sharing who we were, why we came, and then I asked everyone to just write down their first responses to the painting and then share.  The group responded to the use of color, form, subject and emotion of the painting, these insights would go on to inspire our own creativity.
After some time of sharing and exploring these insights, and background on the artist, I shared that I hoped we were inspired enough to express our thoughts in a few lines of poetry. In planning this talk I wrestled with the idea of when to tell them they would write poetry. Should I tell them at the start of the talk or save it until the end? I ultimately chose to say at the beginning that I wanted us to do a writing activity, but did not elaborate until the end as to what that would be. I did not want the group to be trying to compose while we discussed the painting, and build up to the creative writing.
I was pleased that many people participated, and loved their creative expressions inspired by Dancers Over the Sea. It can be a challenge to get adults to open up and freely express themselves in the gallery; many tend to be more passive listeners. I would like to say that it was my dynamic gallery teaching style that brought on such great participation, but I will instead give full credit to the mystery and power of Tamayo's painting.
As a museum educator, I was thrilled to have such open and honest participation. Having active participates in a gallery talk always brings life and energy to the learning experience.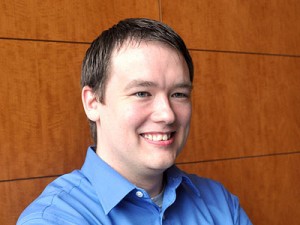 – Andrew Hardin, Assistant Director of Docent Learning
As with many works of art, Rufino Tamayo's Dancers Over the Sea remains under the copyright of the artist's estate; image reproductions are therefore unavailable. Seeing the work in person is always the better option, and we encourage you to visit the Art Museum to get a firsthand look at the painting.
Below are some of the poems shared by our participants, and I welcome those reading this to come to the Art Museum, write your own poetry and share it in the comments.
How dark –
They dance
Trapped in embrace
Against brown sky, over too green a sea
Blue scarves lifting them up –
They lift those scarves themselves
They move, they dance
But neither approach
Nor fall away
Rise nor fall
A swirling mass
Eternally dancing
-Anonymous
The Blue
Usually Sad,
But this one is true,
The color, that is.
Gives hope –
Entwined by the invisible ropes,
The draperies lifted,
The heavy gnarling resistance.
Cleaned up, controlled, enveloped
Coddled, forced, But lifted
protected…
And yes
The Transcendence,
Yes, Gives Hope.
-Deb Nathan
Red, blue, green
a blanket full of what?
Red, blue, green
you float above
And give us mystery
Blue, green, red
What are you?
-Anonymous
emotion creates action
These actions are choices
open up to the strangest
emotion
and Dance over the sea
to the heavens
-Anonymous
The joy of floating into a beautiful sunset.
Our hearts are uplifted and
grateful to be a part of this miracle.
-Anonymous

Passion & Peace
Floating, soaring, dancing, Arching, struggling,
wrestling
Fire & spice over the sea
the calm, Beautiful, relaxing waters
The Blue green jewel melding into the warm Burning Hot sky.
-Cheri Klink

 Museum
↓                 ↓
muse      ummm
↓                            ↓
inspriation      a sigh
↓                                ↓
role model           of enjoyment & wonder

-Anonymous

The sun sets
the boat drifts
Happiness yes –
Celebrated in dance
As I am taken to heaven
In my mother Mary's blue blanket
-Anonymous

Black dancers
Against an earthen sky
Above a deep green sea.
-Anonymous

a cold sun sets
in an earthen red sky
struggle – torment – dance
pull – lift – drift
into the sky
escape?
-Anonymous