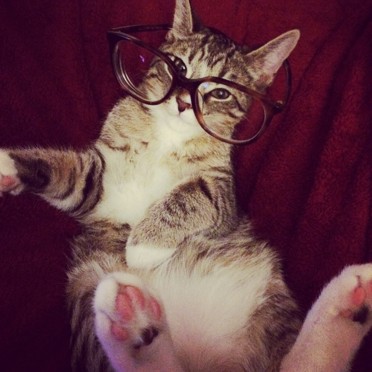 My name is Findus and I am a tabby cat who lives with Amy Meyer, the Tour Coordinator for the Cincinnati Art Museum. Amy shared with me the details about CAM's new exhibition Modern Cat and let me take a look at the images in the show.  I wasn't surprised when she told me that there was an entire exhibition just on cats, as we felines really should be honored more often. There are more than 500 million of us in the world, so we are pretty important. I decided to take some time out of my schedule of cuddling, eating and chasing flies around the house, to look at some of the pieces in the exhibition this week.
I'm so glad I made the effort to look at this collection of print works. Artists including Joan Miró, Charley Harper and others shared their interpretation of my favorite subject, me! I've seen Charlie Harper's works of other animals, mostly birds that looked pretty tasty in my opinion, but his cats are now my favorite. I especially liked "Catnip" (shown below), as I believe that a fellow feline friend is about to catch his dinner. Personally I've never managed a successful bird hunt, but I have certainty that it will happen eventually as long as I continue vigilantly watching from the window sill inside my apartment.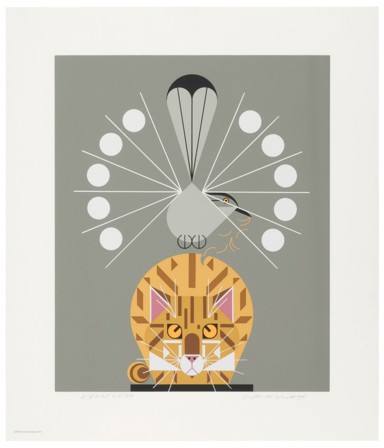 While I'm not allowed in the galleries as I'm a cat, Amy tells me my fur isn't good for priceless works of art, you should check it out in person for me.  Modern Cats is on view till September 11th, 2016. I hear there is also an entire exhibition, Divine Felines: Cats of Ancient Egypt, about how cats were treated like royalty in Ancient Egypt! I am currently plotting on how to convince my humans to see me as the king I am.
For information about the Cincinnati Art Mewseum's cat-themed exhibitions and programs, visit http://www.cincinnatiartmuseum.org/
Image Credit: 
Charley Harper (American, 1922–2007), Catnip, 1977, color screen print, Gift of Donna Herwarth in memory of Carl J. Herwarth, 2003.177. © Estate of Charley Harper