Stallions, mares, and ponies are cantering through the galleries this autumn. Check out these worthy steeds in the permanent collection while visiting the special exhibition Galloping Through Dynasties (now through Jan. 1, 2023). 
Gallery 101
Look closely at this lidded vessel from about 750 BCE. A pyxis, or circular container, often held small personal items such as jewelry. Why did the Greek artist who crafted this pyxis create a handle using four horses? What can we learn about the pot's owner based on its appearance?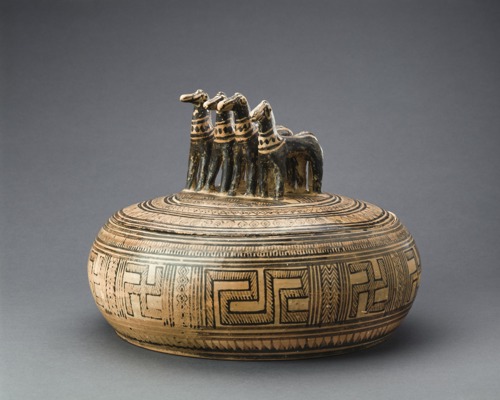 Greece, Lidded Geometric Pyxis, circa 750 BCE, clay with painted decoration, Museum Purchase: Gift of Mrs. J. Louis Ransohoff, by exchange, 1989.111
Gallery 105
Deborah Butterfield is an American sculptor known for creating horses using found materials like scrap metal, mud, and twigs. Why do you think horses fascinate and inspire her? Examining Horse No. 1, how would you describe it? Has the artifact captured the spirit of the horse in this sculpture?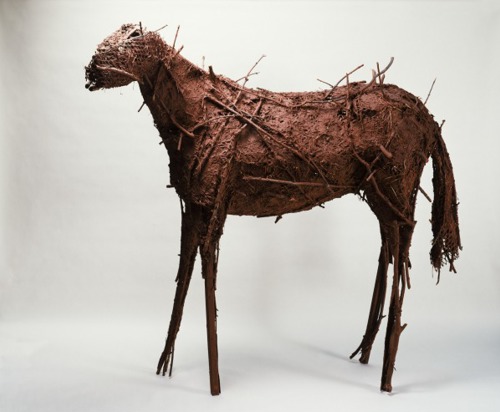 Deborah Butterfield (American, b. 1949), Horse No. 1, 1983, red mud, sticks, metal armature, Henry Meis Endowment and various funds, 1984.94, © Deborah Butterfield / Licensed by VAGA at Artists Rights Society (ARS), New York
Gallery 122
You can almost feel the cold winter gusts while viewing Winter (Little Horse in the Wind). Artist Solon Hannibal Borglum dedicated his career to capturing American frontier subjects in his sculptures. What message is the artist trying to convey about pioneer life through this work? 
CAM Look: bit.ly/LittleHorse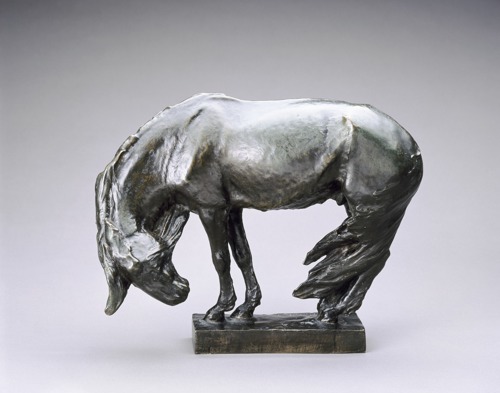 Solon Hannibal Borglum (American, 1868–1922), Winter (Little Horse in the Wind), circa 1898, bronze, Gift of W. W. Taylor, M. E. Ingalls, D. H. Holmes, Alexander McDonald, L. B. Harrison, J. G. Schmidlapp, 1898.256
Gallery 123
Grab your favorite fancy filly and hold on; we are taking a merry-go-round ride! In this painting, Arthur Helwig captures an iconic American experience. Look closer: Do the riders appear to be enjoying themselves? Why do you think Helwig chose to illustrate his carousel canterers in this way?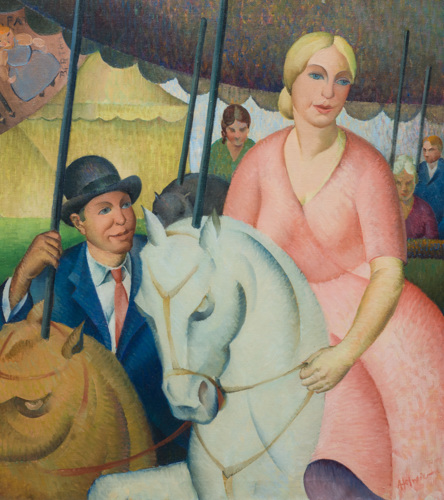 Arthur Helwig (American, 1899–1976), Merry-Go-Round, circa 1930, oil on canvas, Gift of Riley Humler and Anne Bauer, 2006.120
Gallery 203
Falconer, painted in the mid-twelfth century, is a bit of an oddity. One of a series of frescoes created for the San Baudelio chapel, it is a secular image of a man on horseback, reins in one hand, a falcon perched on the other. Why do you think the church asked the artists to include such a figure in this group of paintings? 
CAM Look: bit.ly/Baudelio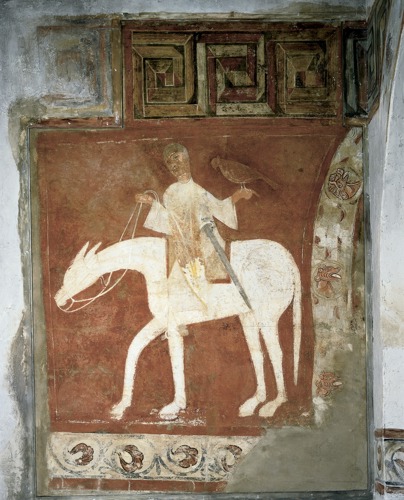 Master of San Baudelio (Spanish, active in 12th century), Falconer, circa 1125–50, fresco transferred to canvas, Gift of Elijah B. Martindale and The Edwin and Virginia Irwin Memorial, 1962.594
Gallery 216
Perhaps one of the most dramatic works in the collection, The Last Arrow captures a powerful horse rearing in battle as its rider shoots an unseen foe. What artistic devices has artist Randolph Rogers used in this sculpture to capture the drama of this scene? 
CAM Look: bit.ly/RogersArrow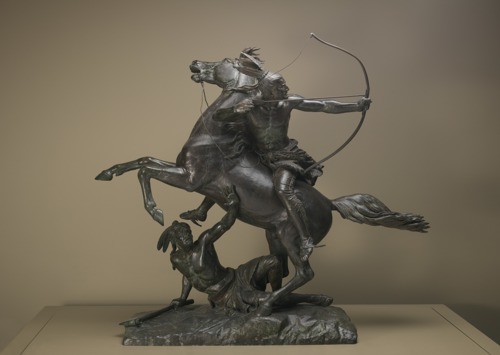 Randolph Rogers (American, 1825–1892), The Last Arrow, 1879–80, bronze, Gift of O. J. Wilson, 1888.293
From ancient Greece to the 1980s, these works represent just a fraction of the equestrian images in the museum's collection. Explore other equine creations at cincyart.org/collection by searching "horse."