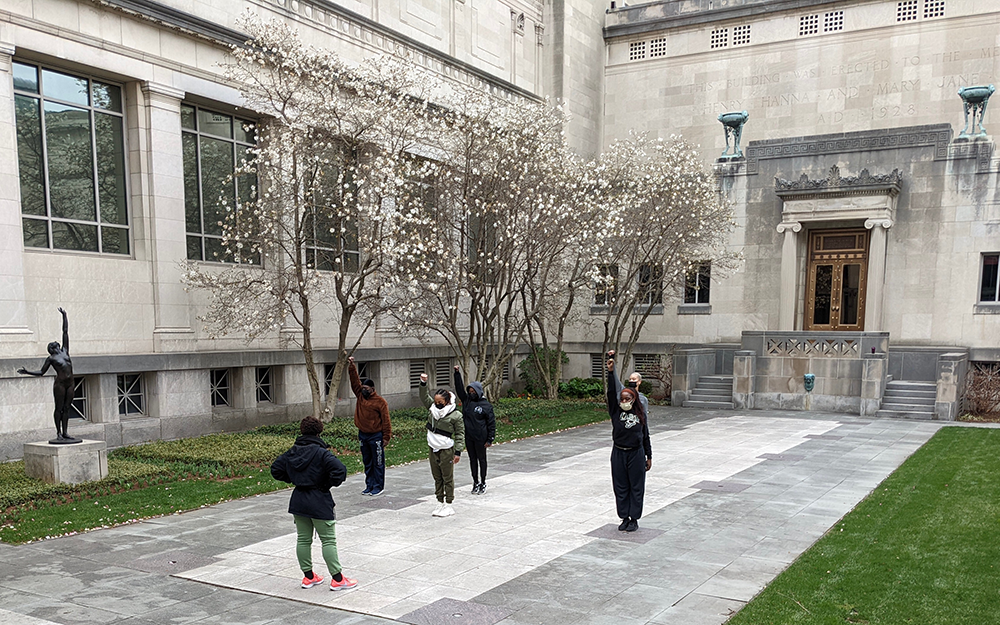 Countess V. Winfrey in rehearsal with Aaron Frisby, Nicolay Dorsett, Courtney Draper, Alexis Diggs, and Niarra Gooden-Clarke in the Alice Bimel Courtyard, Cincinnati Art Museum
…to creating this new work at the Cincinnati Art Museum has brought forth sheer excitement coupled with a little anxiety, which, strangely enough, feels necessary for the final push. At two weeks out from the performance date, my creative team and I have been working feverishly to finalize the steps, make alterations to costumes, make final edits to the dialogue, and put the finishing touches on the music. This is the point where all the blurry lines begin to become clearer, and the vision starts coming to life!  
The dancers and I have begun rehearsals in the museum. We have taken the material that we began working on in the studio and have begun to mold and transform it to fit the three areas of the museum—the Front Plaza, the Alice Bimel Courtyard, and the Great Hall—that will form the three "exhibits" in the performance Homage: What was, Is, To Come. It has been both creatively challenging and exciting to discover how to utilize all the nooks and crannies of each space, and to see how we can fit our bodies and energy into the space to allow each area to share its own story.  
One of the biggest challenges with site-specific work is figuring out the best angle for the audience experience, both in person and virtually. As part of this challenge, we have been thinking about how many people can truly fit into this "up close and personal" performance experience, including our video documenters. We have put a lot of thought into how we can make sure that this one-time performance is documented in the best way possible. My vision is that the filmed version of the work allows the viewer to have a similar experience to the in-person viewer. This has taken a good bit of navigation, but the efforts to finalize all things surrounding getting a good video have begun to fall into place.  
In these last two weeks, I will be focusing on adding the final touches to each space choreographically, visually, and sonically. I want each "exhibit" to truly feel like an exhibit, so I've been toying with ideas for props and soundscapes I can place in each area that can truly represent the past, present, and future of the Black experience in America. This project has evolved in a magnificent way, and in addition to having such a great team of artists to work with, I am so thankful to work with the Cincinnati Art Museum team. They have asked all the right questions and made all the necessary efforts to be extremely accommodating of all my requests. Their willingness to "grant my wishes" has allowed me to dream big with this project, which I recognize as one of the biggest gifts I've been given during this artistic venture.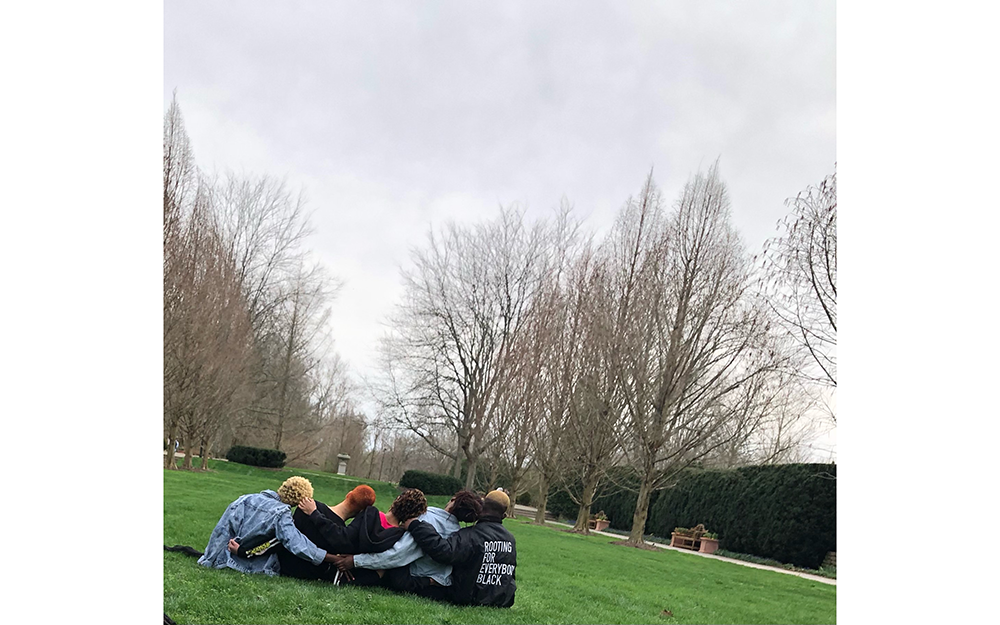 Dance cast of Homage: What was, Is, To Come at Wegerzyn Gardens, Dayton, Ohio