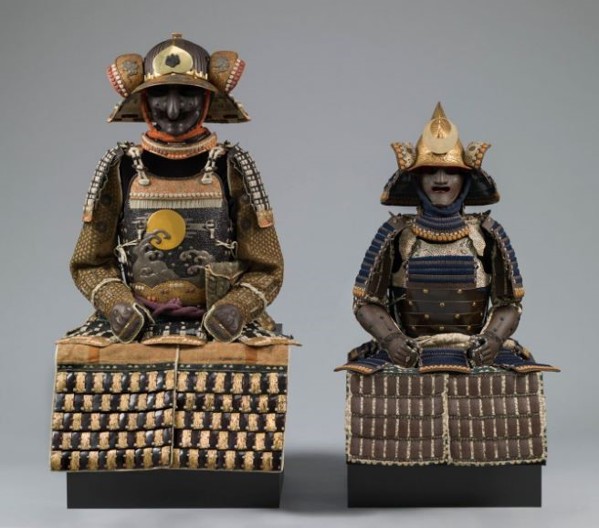 Image Credit: (Right) Japan, Suit of Armor, Late 18th Century, metal and leather, Museum Purchase, 1892.2783
(Left) Japan, Child's Suit of Armor, Early 19th Century, metal, doeskin, and fabric, Lent by Gary Grose. 
Scholarship, international intrigue and more! The stories behind the stories in the Cincinnati Art Museum's current exhibition Dressed to Kill: Japanese Arms and Armor will be the focus of the multiple perspectives presented at the Third Annual Cincinnati Asian Arts Society Lecture on April 2, 2017.
Four experts will be presenting, including art museum Curator of Asian Art, Dr. Hou-mei Sung, collector, Gary Grose, researcher, Nancy McGowan and conservator, Betsy Allaire.
"Soon after viewing Cincinnatian Gary Grose's collection of Japanese arms and armor I began to think about how to bring his collection and the museum's extensive holdings of Japanese art together with a bigger goal, to help people understand samurai culture," said Dr. Sung.
"A Japanese suit of armor was among the first purchases for the museum's collection—in 1881, five years before the opening of the museum. Two more Japanese suits of armor were added in 1889. This will be the first time we are showing some of these rare treasures, so I am excited to share stories about our collection," she said.
Grose, who has eight full samurai suits and many Japanese weapons from his private collection on view in the exhibition, plans to give an overview of the history of collecting. "I'll discuss Japanese arms and armor through three periods (pre-WW II, post WW II to 1990, and post 1990 to present), including some stories about the darker side of collecting. For example, my friend and I were once set up to be robbed in Canada, which would have not ended well. And also, to what length some of the charlatans in the field have gone." Grose promises some funny stories and details about an infamous robbery.
Conservator Betsy Allaire will focus on hidden discoveries uncovered during close examination in preparation for conservation treatment of the samurai armor in Mr. Gary Grose's collection. "These small and sometimes large revelations are often not something that a visitor to a gallery would necessarily notice, or by the nature of the location, even be able to see, while on exhibit," said Allaire.
"My images are not taken to necessarily show the 'most beautiful' side of an object, rather they are meant to document the object's condition at that moment in time," she said. Trained to look at the manufacture of an object and the technology that went into its creation, she will focus on the use, purpose and original intent of the objects, and how to best understand their materials in context and purpose.
As a research assistant to Dr. Sung, volunteer Nancy McGowan has gathered information for the 2015 exhibition Masterpieces of Japanese Art and now Dressed to Kill. "The woodblock prints that we have in the exhibition tell wonderful stories about the warriors that help us understand parts of the samurai culture" said McGowan. As with the other presentations, the images and stories that McGowan shares are intended to promote a greater understanding of the samurai culture that underlies Dressed to Kill: Japanese Arms and Armor.
Free and open to the public, the lecture is sponsored by the Cincinnati Asian Arts Society. It will be held in the Fath Auditorium on Sunday, April 2 at 2 p.m. Reservations are recommended, call 513-721-ARTS or visit cincinnatiartmuseum.org. Tickets for Dressed to Kill: Japanese Arms and Armor are free for members, $5-10 for general public.