This print came to the paper lab because the original framing method had encouraged distortions to form across the top of the paper.  The Japanese paper was adhered to the back board with a wide strip of pressure sensitive adhesive.  The adhesive held the top of the sheet tightly to the board, while the rest of the large sheet of paper hung loose and was free to expand and contract with changes in relative humidity.  The buckling between the tape and the printed area is clearly visible.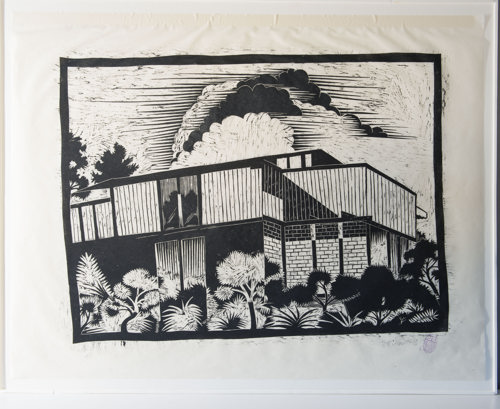 To correct the problem, our paper conservator softened the adhesive with a combination of gentle heat and solvent vapors and slowly separate the print from the mount with a scalpel.  She then removed sticky adhesive residues mechanically from the back of the print.  The distortions did not relax on their own, so our conservator humidified the paper and dried it under weight.  The oil-based ink created another form of stress, preventing the paper from expanding evenly.  Multiple rounds of humidifying and drying between thick felts, blotter paper and mat boards under weight were needed to coax the paper back into plane.  The after treatment photograph shows the print closer to its original appearance.  It is now housed in an acid-free mat with Japanese paper hinges that will allow the paper more freedom to react to any humidity changes it encounters while in the museum.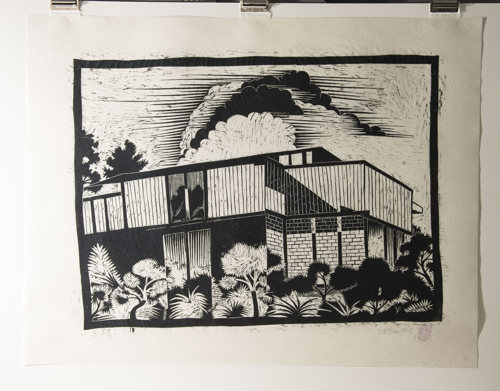 For people who are fans of Cincinnati artist Thom Shaw, this print may surprise them.  Shaw created series of prints showing painful experiences of urban African Americans.  In contrast, this bold wood cut made with the same Japanese paper and black ink that he used for his other prints is another kind of urban scene: a portrait of a house.  The Mount Adams house was designed by Phillip O. Smith, an architect who lived and worked in the neighborhood, in 1967.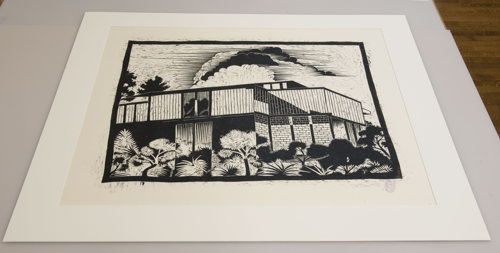 Thom E. Shaw (American, b.1947, d.2010), 1011 Jerome Street, Cincinnati, 1996, woodcut on paper, Gift of Allen W. Bernard, 2019.357