Here's another close encounter in the paintings conservation studio that you would be unlikely to see in our galleries. 
On the easel in the back, the large interior scene by American artist Henry Mosler has just been cleaned.  The deep yellow varnish was removed to reveal a dramatically sunlit tableau.  The painting will be in our upcoming exhibition "Henry Mosler Behind the Scenes: In Celebration of the Jewish Cincinnati Bicentennial," opening June 10, 2022.
On the table in the foreground, a work by German artist Hans Hofmann is part of a recent gift by the Weston estate.  It's being treated for flaking paint.  Because Hofmann often used non-traditional materials to create his abstract expressionist works, flaking paint is a common occurrence.  Here, each flake is being careful warmed and laid down with a conservation-grade adhesive.
This unlikely pair certainly livens up the conservation workspace!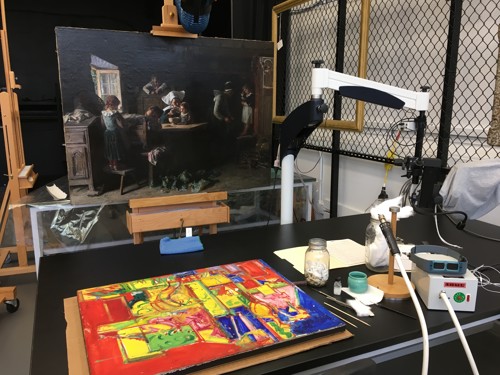 Henry Mosler (United States, 1841-1917,) "Morning," 1888, oil on canvas, Given in memory of Mr. and Mrs. Louis Kaufman by Mr. and Mrs. George Stricker, Mr. and Mrs. Charles H. Tobias, Jr., Mr. and Mrs. David H. Spritz, Jr., 1972.414
Hans Hofmann (Germany, 1880-1966,) untiled, 1942, alkyd (est.) and oil (est.) on plywood, Bequest of Alice K. Weston, 19/20.52:6