This week in objects conservation, we're doing the finishing touches to the objects being installed in our newly renovated Ancient Middle East Gallery, opening Saturday, December 18.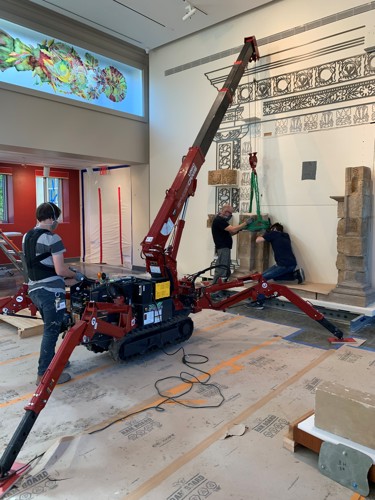 Our objects conservator is working with our Installation team to finish building the Nabataean Shrine, which will be on view for the first time in more than 15 years.
Each object on display has passed through the conservation lab to receive treatment over the past few years, from the large architectural stones to the beautifully decorated ceramics and intricate bronzes.
We hope you're as excited as we are to see all of these objects back on display! Learn more about this gallery reinstallation in the official news release or watch this behind-the-scenes video and interviews.
During installation of East Facade of Shrine II, 2nd Century CE, Temple of Khirbet et-Tannur/Jordan, Nabataean, stone, Museum Purchase, 1939.223