How do they do that? It's the magic of magnets! This white linen hanbok—a woman's folk costume from Korea—is going on display in the Asian Art Gallery next month and it is mounted to its display board with a hidden series of strong magnets. Rare earth magnets are attached to a rigid board which is threaded across the sleeves (outstretched) and shoulders. The board is protected inside a padded liner which helps the hanbok look its best and protect it while on display. The magnets are attracted to a steel plate attached to the backboard that supports the hanbok — "magically" holding it in place without the risk of pinholes or other attachments. See it on display starting July 13!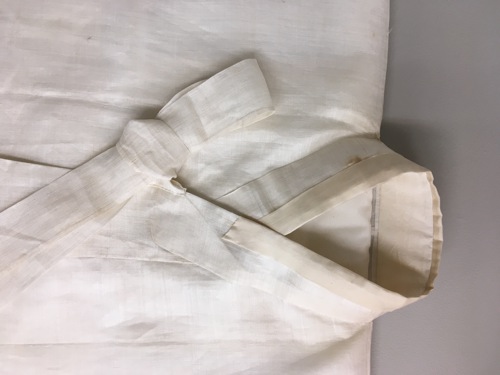 A detail of the mounted hanbok jacket, "magically" sticking to the painted backboard: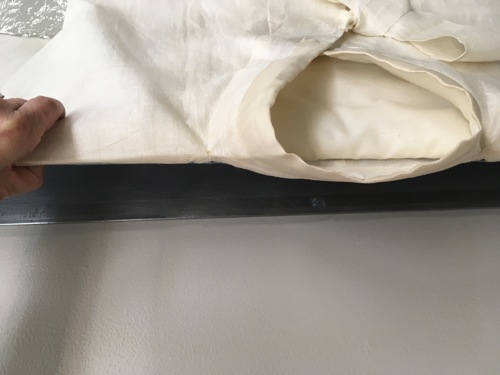 Looking down at the hanbok from above (as mounted), the top edge of the jacket is lifted up to show the steel plate hidden underneath which allows the magnets to attach.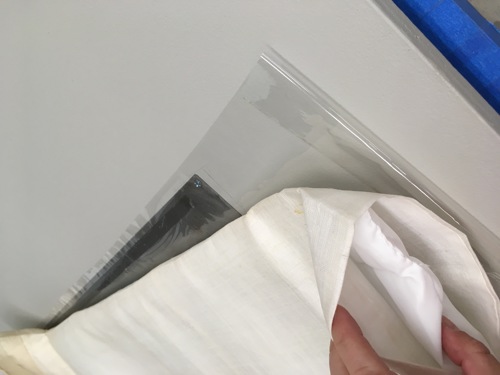 From the sleeve end, you can see inside to the white, padded fabric form which also carries and protects the rigid, magnetized strip. The sleeve is scooted down enough so you can also see the steel plate underneath. The shiny, clear film is a nylon barrier film that isolates the object from the mountboard. It will be trimmed back so it just hides underneath the hanbok when the mounting is finished.   
Woman's folk costume, 1900-1950, Korea, glazed linen; Gift of Mrs. Charles F. Mosher, 1966.1505ab