This summer, Michelle Leung has the amazing opportunity to intern here in textile conservation, funded through the generosity of the Andrew W. Mellon Foundation. Michelle is currently a third-year graduate student in textile conservation at the University of Rhode Island. At CAM, she works with Obie Linn, Associate Conservator of Textiles, on lots of fun, interesting and challenging projects every week! Here's a look at one of her weeks as a conservation intern.
Monday. The week kicks off with a conservation department meeting to share important news and get on the same page with the other three conservators. Right after, Obie and I rush to the African gallery to meet with the Design & Installation crew and the Curator of Fashion Arts and Textiles to install a beautiful kente cloth. In the afternoon, we meet with more curators down in textile storage to review and select rotations of South Asian textiles for the upcoming reinstallation of the gallery. In addition to assessing the visual quality, we look for condition issues and damages that might need stabilization from a conservator before we can put them on display. Afterwards, we have to carefully put them away – that means slowly rolling them and interleaving with tissue paper to ensure there's even tension and that the textile is straight, which I found out is much harder than it looks!
Tuesday. We sit down for a monthly meeting with the Curator of Fashion Arts and Textiles to report recent progress and identify some new projects, including a few for me! At noon, we head to a welcome lunch for all of CAM's summer interns, where we get to share our experiences so far and network with other staff mentors.
Wednesday. Our morning starts with an inter-departmental meeting with Conservation, Registration, Design & Installation, and Photography to discuss upcoming projects that will affect all our departments. In the afternoon, we meet down in textile storage with the Curator of Fashion Arts and Textiles to test the fit of a dress that is going on display in an upcoming exhibition. We find a mannequin that fits well and will only need a little additional padding to properly support the dress, but we don't have a slip to go underneath that matches the hemline, which means I have another new project!
Thursday. We finally get a day to focus on a project on our bench! Last week, I focused on dyeing silk fabric that we are using to visually compensate for severely faded areas on the Pot Luck quilt by Jane Burch Cochran. It's a vibrant quilt that uses applique and whimsical beading to bring dishes of food to life. However, the binding, which used to be an intense violet blue color, has sadly faded to a dull gray. We continued our work of stitching the new fabric to cover (and preserve) the old binding and began reattaching the decorative buttons on the front.
Friday. In between more work to finish the quilt, we hosted a high-school junior and her father for a visit to the textile conservation lab. She was getting ready to apply for college and wanted to learn more about a career in textile conservation. Seeing her excitement as we toured the lab and chatted about our work reminded me of myself when I first discovered textile conservation. It was a great chance to reflect on how far I've come now as this summer's Mellon Fellow in textile conservation!
Installing the Kente cloth: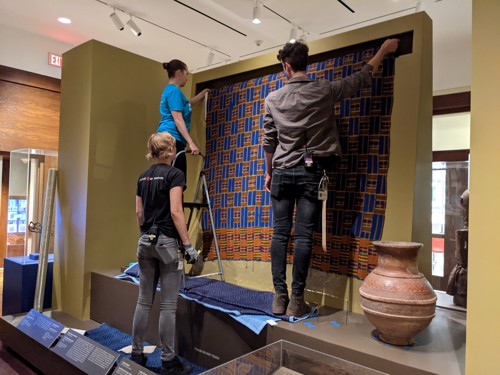 Looking at South Asian textiles:
Working on the Potluck quilt: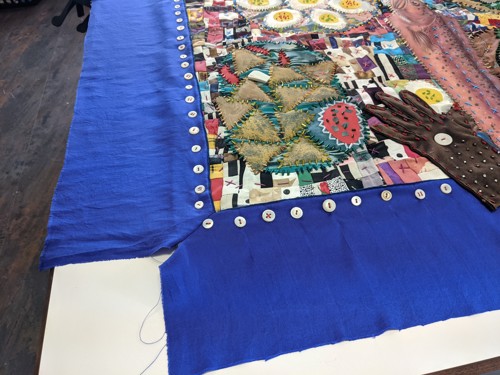 Unattributed Asante artist, Man's Wrapper (kente), late 20th Century, rayon, Gift of William C. Mithoefer, 1989.222
Hanging, late 17th Century, poss. Ahmedabad/India, Mughal period, silk, Gift of Mr. and Mrs. John J. Emery, 1966.1179
Jane Burch Cochran (American, b. 1943), Pot Luck, 1993, cotton, silk, synthetic fiber, mother of pearl, plastic, glass, paint, 2018.275