Many recent visitors have football on their minds!
As shown by their creations in the Cincinnati Art Museum's Rosenthal Education Center (REC), we've noticed that many visitors are using the in-person artmaking to tie into our hometown heroes, the Cincinnati Bengals!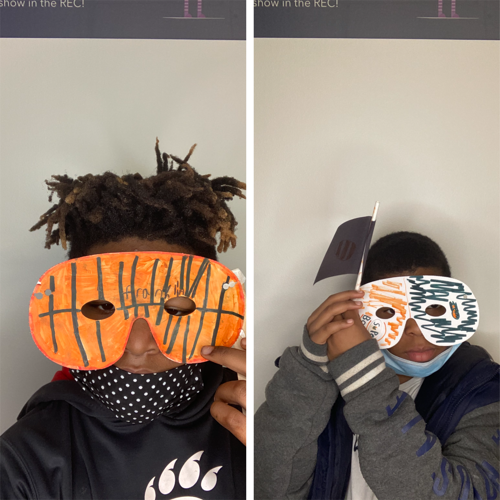 Visitors of any age are being invited to use provided materials and create a fun facial disguise inspired by the artwork of Cyrus Kabiru. Show your Bengals pride and make your own orange-and-black creations for free, Tuesday–Sunday, 11 a.m.—5 p.m. and until 8 p.m. on Thursdays.
Kabiru is a self-taught artist using both found materials and photography in his practice. He collects trash from the streets of his native Nairobi, Kenya, or wherever he is traveling, and alchemizes it into wildly inventive sculptures, resulting in objects like these fantastical eyeglasses that he calls C-Stunners. His intricate sculptural work pushes boundaries and straddles fashion, photography and performance. View two of these artworks and a video of more in the contemporary African art gallery, G104.
Through May 1, 2022, REC activity stations are highlighting artwork by contemporary BIPOC (Black, Indigenous, People of Color) artists whose works are featured in the permanent collection of the Cincinnati Art Museum.
In the Celebrating Diversity REC theme, you will learn about important contemporary BIPOC artists including Kabiru, Yinka Shonibare, Margo Humphrey, Shahzia Sikander, Kenojuak Ashevak and Cincinnati's own Terence Hammonds through fun, interactive activity stations. Create a mask inspired by Kabiru's C-Stunners,  build a wind chime inspired by Yinka Shonibare's Wind Sculpture IX, and create etchings like those used in Kenojuak Ashevak and Margo Humphrey's work. All projects are also available in to go bags for visitors to take home!