November is Native American Heritage Month—a time to celebrate the diverse societies, rich traditions, and complex histories of Indigenous Peoples here in North America and a time to acknowledge their vital contributions to American art and culture.
The museum began acquiring Native American ceramics and other objects before it opened its doors in 1886 thanks to a handful of key donors who understood the importance of preserving objects created by our nation's First Peoples. (In fact, the first object to enter the museum's collections—Acquisition #1—is a ceramic jar from Ohio made by the Fort Ancient people.)
And although the American western frontier was famously declared "closed" in 1890—with most Native Americans relegated to reservations during this time—Indigenous traditions live on today, cultures thrive, and great works of art continue to be made.
In honor of Native American Heritage Month, this post highlights selected works created by ceramic artists from New Mexico's Pueblos—both past and present. Enjoy!
Water Jar (Olla)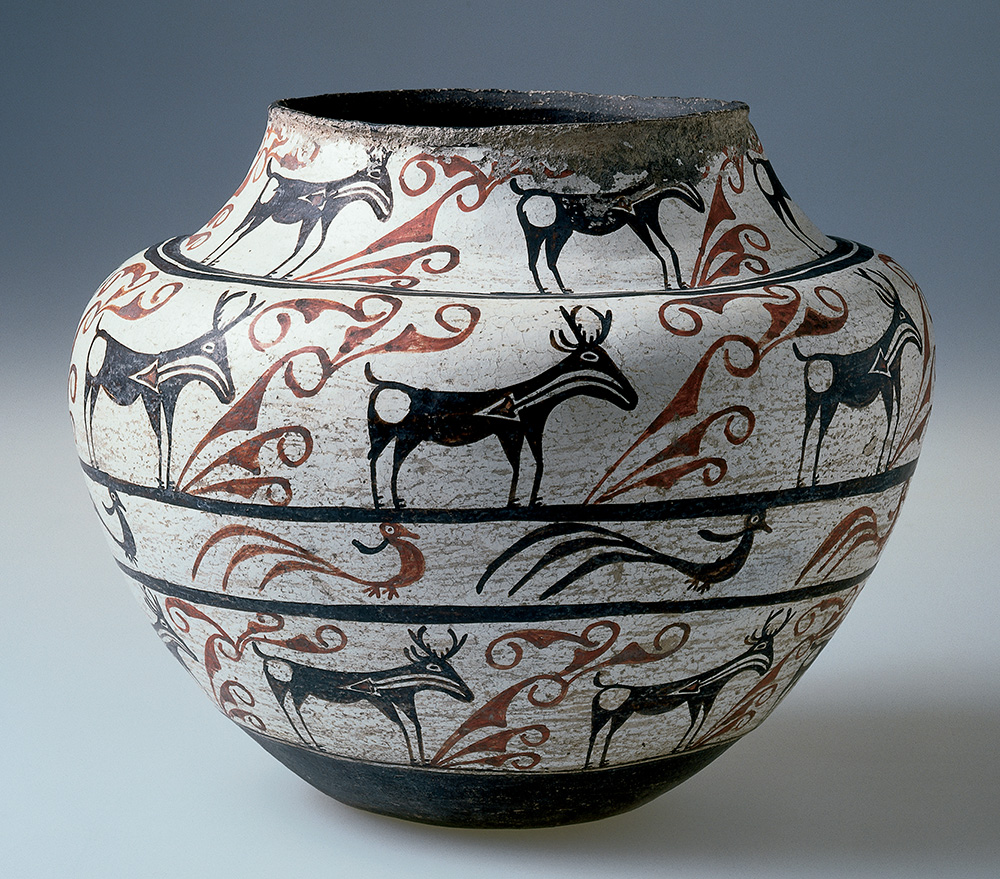 Water Jar (Olla), Zuni Pueblo/New Mexico/United States, circa 1875, earthenware, white slip, pigments, Gift of the Women's Art Museum Association, 1885.48. Currently on display in Gallery 216.
The Zuni people have one of the most distinctive Pueblo ceramic traditions of the Southwest. Beginning in the mid-nineteenth century, Zuni women (the potters of their Pueblos) developed the ornate polychrome decorative style scene on this water jar pictured above. The vessel is divided into four bands consisting of images of birds with plumed tailfeathers and deer with arrows extending from their mouths to their hearts. This "heart line" is a specific characteristic of Zuni painting and symbolizes life or breath.
Listen to a CAM staff member discuss this artwork in our CAMLook episode posted on July 5, 2022.
Jar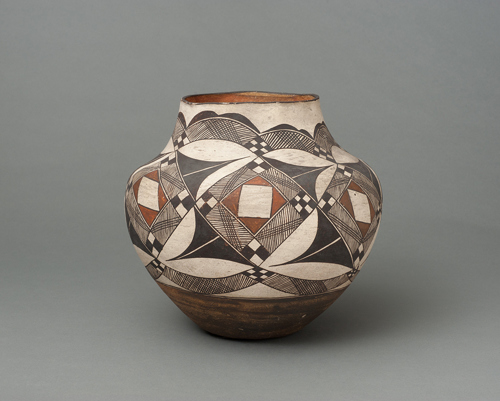 Jar, Acoma Pueblo/New Mexico/United States, circa 1900, ceramic, Gift of Dorothy Powers, 1965.471. Currently on display in Gallery 216.
Acoma Pueblo, located on a 367-foot sandstone bluff or mesa, was established in 1150 and is the oldest continuously inhabited community in North America. For centuries, the people who lived at Acoma gathered water daily from a spring at the foot of the mesa. Because of this, water jars are the most common pottery form made at Acoma.
Women usually made and decorated these jars, and the unknown artist who created this pot painted a lively repeating geometric pattern using black and red-orange pigments. The hatched lines and checkerboard diamonds of the scalloped borders at the neck and base lead the eye to the points of the square-within-a-square design that cover the body of the jar. Triangular shapes at the sides of the central motif seem to point to their neighboring design elements, giving the overall pattern a sense of movement.
Why Don't We Know the Artists' Names?
The collecting of Pueblo pottery began in the mid-nineteenth century, as the United States expanded west. Some white people viewed the pottery as ethnographic, valued for scientific purposes to preserve the memory of various Indigenous cultures as white settlers pushed Native peoples into smaller and smaller areas. James Stevenson, who led a massive collecting expedition among the Pueblos for the Smithsonian Institution in 1879, expressed the common mindset: "While [pueblo pottery] is of value in the study of ethnology and archaeology, there is nothing in the ornamentation or in the form of the vessels that ceramic artists of the civilized races would desire to copy."
Today we recognize these jars as great works of art created by skilled artists. But when museums and collectors first acquired them, these unique pieces represented the artistic output of an entire culture instead of the creativity of individual artists. Consequently, the names and biographies of the women who made these works were considered unimportant and subsequently lost.
But just seven years after Stevenson's expedition, the ceramic artist Maria Martinez (1887–1980) was born at the San Ildefonso Pueblo. Her life and her work countered the notion of artistic anonymity within Native American communities and ensured that the traditions of Pueblo ceramics would continue and thrive. Grounded in the traditions of her people, the designs and glazed surfaces of her works were also inspired by the modern times in which she lived.
Black-on-Black Plate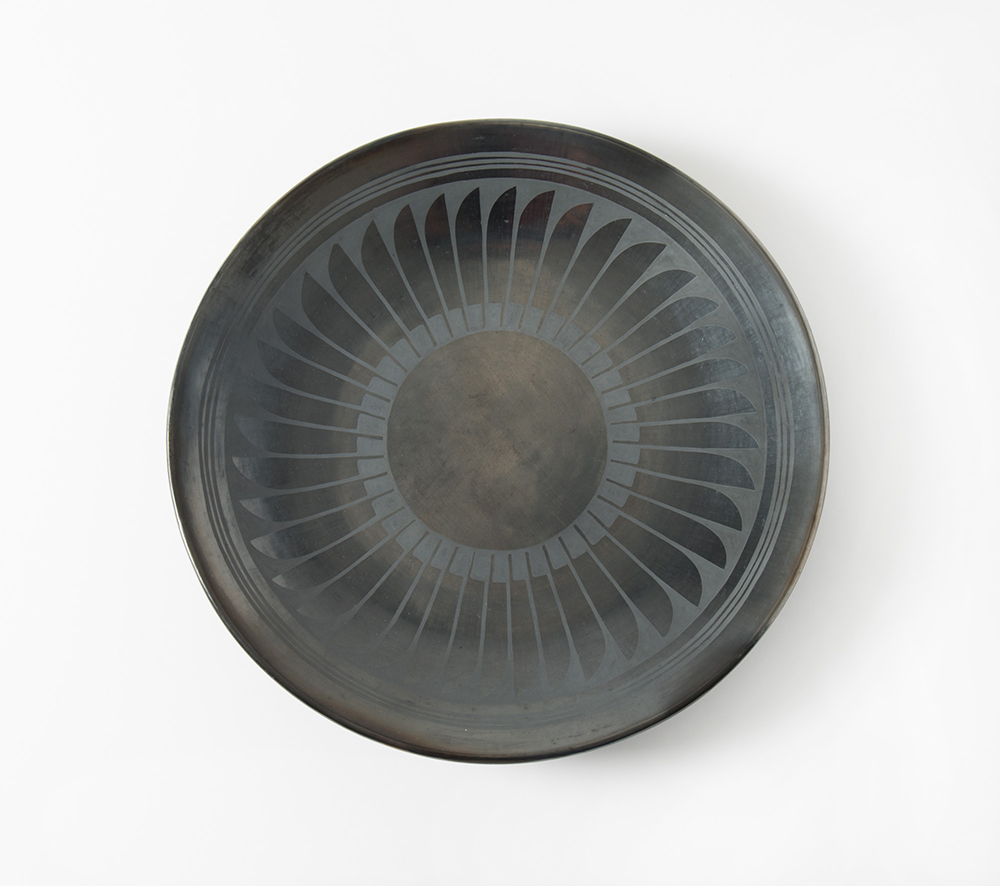 Black-on-Black Plate, Maria Martinez (American, 1887–1980) and Santana Martinez (American, 1909–2002), circa 1945, San Ildefonso Pueblo/New Mexico/United States, ceramic, diameter 14 5/8 in. (37.1 cm), Gift of Mrs. Howard E. Wurlitzer, 1948.174
Maria Maritnez's fascination with making pottery came at an early age when she watched her aunt making pots at the San Ildefonso Pueblo, just northwest of Santa Fe. Many women in the pueblo knew how to make pottery, but during Maria's time it was no longer a necessary part of daily life. Fortunately, through her interests, the encouragement of modern archeologists, and her collaboration with husband, Julian (1879–1943), the early pottery styles and traditions of the Pueblos peoples were revived and became widely celebrated. After much experimentation and study, Maria and Julian discovered the black-on-black finish, as seen in the photo above, that would earn them a revered place among America's twentieth-century ceramists. Working within the traditional Pueblo system, which assigned separate roles to women and men, Maria would coil the clay to form the pots, and Julian would decorate them. Their sons Santana Martinez (1909–2002) and Adam Martinez (1903–2000) continued the family tradition of ceramics making, at first collaborating with their parents and later working as a duo. This plate features a traditional Pueblo feather motif.
Jar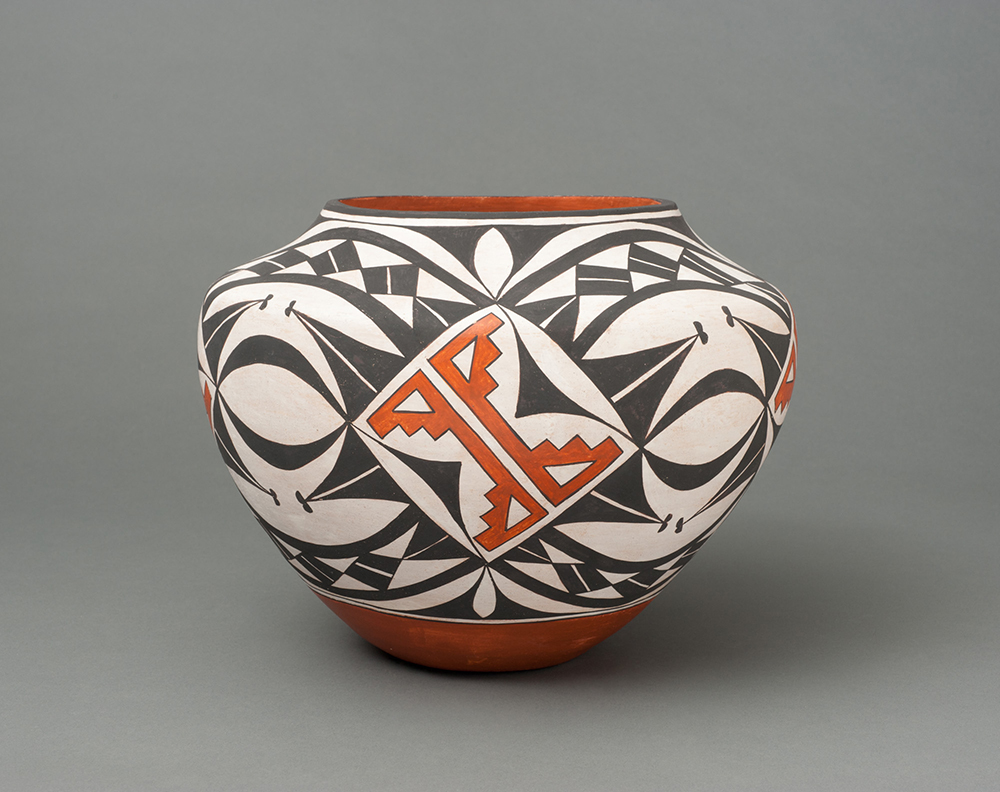 Jar, Mary Lewis Garcia (American, 1923–2015), 1994, Acoma Pueblo/New Mexico/United States, ceramic, Gift of Mr. & Mrs. L. Harold Wehling; Daniel & Irene Randolph; Charles & Harriet Edwards, 1994.243
Mary Lewis Garcia (1923–2015) came from a well-known family of Acoma Pueblo potters. Her mother was the famous potter Lucy Lewis and several of her sisters were also active in making pottery. Mary preferred to use traditional Acoma designs on her elegantly shaped vessels (as seen in the photo above), but painted those designs with a sharpness of line and detail that reflects a kind of modernist sensibility.
"I like the old Acoma designs best," said Mary in the CAM exhibition catalog Singing the Clay. "There's just something about them. That's why I use them on my pottery."
See more Native American objects in the museum's collection.
Explore the Native American Art collection
As a step toward honoring the truth and achieving healing and reconciliation with those indigenous peoples who were affected most by the Doctrine of Discovery and broken treaties, we acknowledge the traditional Shawnee and Myaamia lands on which we now stand, and on which the city of Cincinnati was built. Language provided by the Greater Cincinnati Native American Coalition.