Art makes the most memorable gift
From jewelry for your fashion-obsessed friend to fun experiences for the whole family, the Cincinnati Art Museum has something for everyone on your list (including yourself!). Browse our selection by visiting our online shop (local pickup available by appointment only) or shop in person Tuesday–Sunday from 11 a.m.–5 p.m., Thursday from 11 a.m.–7:30 p.m.
Gift with the museum this year and make it a holiday to remember.
Simply Brilliant: Jewelers of the 1960s and 1970s catalog ($50)
By Cynthia Amnéus, Adam MacPhàrlain, Ruth Peltason, Rosemary Ransome Wallis, Amanda Triossi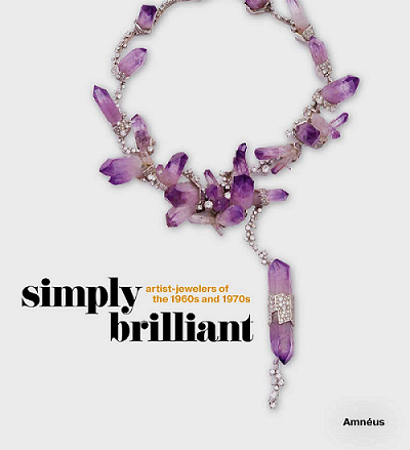 Special exhibition Simply Brilliant: Artist-Jewelers of the 1960s and 1970s (now on view through February 6, 2022) presents more than 100 pieces by leading makers and designers of jewelry in the '60s and '70s. Drawn from the stellar collection of Cincinnatian Kimberly Klosterman, these individual makers thought of themselves as artists first, jewelers second.
This magnificent new volume, containing original research, is full of photography of stunning one-of-a-kind pieces which reflect the inventive and ground-breaking attitudes of the era. The catalog also explores the history of this jewelry and puts it in context with essays that speak to the 1961 Goldsmiths' Hall exhibition in London, the early Italian makers, major jewelry houses and their contributions, and the relationship between jewelry and fashion in this era. Shop online | Learn more about the free exhibition 
The Museum Shop also carries artisan jewelry of all shapes, sizes and styles, some sourced from woman-owned small businesses.
Fine Art Socks (pricing varies)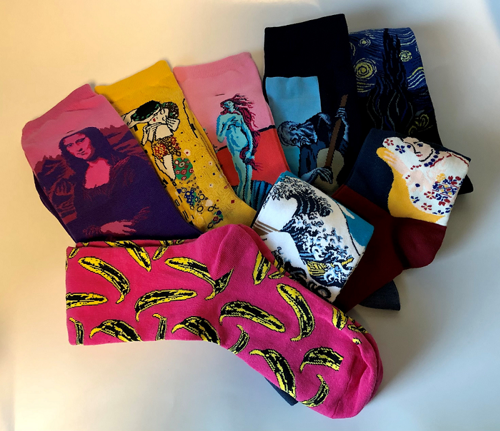 Looking for an affordable option to warm your art aficionado's hearts…and toes? We offer an assortment of fine art socks imprinted with masterpieces from some of the most iconic artists in history, including Van Gogh's "Starry Night," Da Vinci's "Mona Lisa," Klimt's "The Kiss," and works by Michelangelo and Picasso.
Puzzles (pricing varies)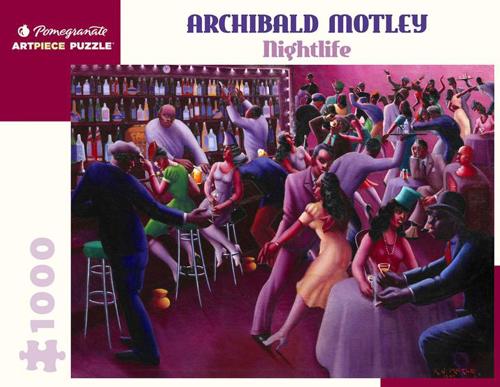 Still puzzling the perfect gift? Puzzles are great gifts for all ages! We have an assortment of puzzles available for beginners and experts and anyone in between. Our puzzles feature famous artworks, Charley Harper designs and more designed for solo use or game night with the whole family. Puzzles also make great host gifts!
Ornaments (pricing varies)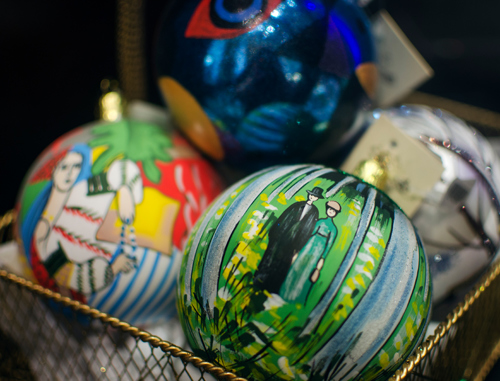 When in doubt, an ornament makes an excellent present for just about anyone. Showcasing artists from the museum's permanent collection, including Van Gogh, Matisse, Miró and more, these colorful creations will spread holiday cheer in any home.
Give the gift of art (priceless)
Who says "giving" always must mean toys, clothes, or more things? Gifting experiences like museum memberships help create memories shared with the whole family. Bonus: museum members receive free admission to ticketed exhibitions! And don't forget current museum members receive a 20% discount on all gift membership purchases. Please visit our website or call the Membership Department at 513-639-2966 to purchase a membership.  
---
Holiday Season Events
Extended hours | Wednesday, November 24, 11 a.m.–8 p.m.
The museum will be open late the night before Thanksgiving. Visitors will also enjoy a cash bar and free admission to ticketed exhibitions including Kara Walker: Cut to the Quick (now on view through January 16, 2022).
Thanksgiving | Thursday, November 25, 2021
The museum will be closed Thanksgiving day. We are infinitely grateful for our visitors, volunteers, members, donors, sponsors and staff! We wish you all a safe and healthy holiday. The museum will reopen on Friday, November 26 and continue normal business hours through the weekend (open 11 a.m.–5 p.m.).
Museum Store Sunday | Sunday, November 28, 2021
Support your local museum shop on #MuseumStoreSunday! Shoppers will receive 10% off purchases, 20% off for members (exclusions apply). Can't make it in person? Enjoy 10% off when shopping online with promo code BEAPATRON10%
REC the Halls | Dec. 1, 2021–Jan. 2, 2022 (excluding Mondays)
Bring the family to the museum for holiday art-making activities as part of the Rosenthal Education Center's REC the Halls celebration!
The Art Bar will be transformed into a holly jolly winter wonderland and visitors will be invited to create holiday cards, ornaments and custom gift bags.
The REC is open during normal museum business hours.