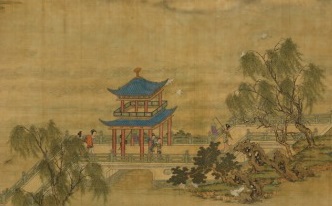 In celebration of the Cincinnati Art Museum's renowned Asian Art collection, the Cincinnati Asian Arts Society has invited Jan Stuart, Melvin R. Seiden Curator of Chinese Art at the Freer and Sackler Galleries at the Smithsonian, to be the guest speaker at the Second Annual Asian Art Lecture on Sunday, April 17.
Stuart's lecture will focus on an attitude in late imperial China (the Ming and Qing dynasties) in which there was a spirit of creating layers of visual pleasure in social life and using interior decoration to advertise status, power and personal cultivation.
"The wonderful painting in the Cincinnati Art Museum collection, Spring Morning in the Han Palace, provides a view into idealized life in China, here in a palace setting resplendent with beautiful architecture, furniture, flowers and all manner of accoutrement," said Stuart. "Albeit a fictitious setting, the painter of this scroll illustrates in delightful detail and an elegant palette many of the visual practices common in late imperial China." 
The Cincinnati Art Museum's scroll is just one of the many works of art discussed along with many images showing details of other Ming and Qing paintings, as well as close up images of ceramics, bronzes, jades, and textiles, to illustrate the sensory experience of life in the Ming and Qing dynasties. Images of art objects in the Freer and Sackler Galleries of the Smithsonian, in the Palace Museums in Taipei and Beijing, and from many other world collections will be included in the presentation.
In conjunction with the lecture, Spring Morning in the Han Palace has been installed in Gallery 139.
"This beautiful scroll has not been on display for the past 20 years and only a six foot section will be on view for a few months," said Dr. Hou-Mei Sung, Curator of Asian Art. For conservation reasons, exhibition time is limited.
The Cincinnati Asian Art Society Second Annual Asian Art Lecture is made possible in part by a grant from ArtsWave.
Image Credit: Qing dynasty, late 17th or early 18th century. Museum purchase, Lawrence Archer Wachs Fund.