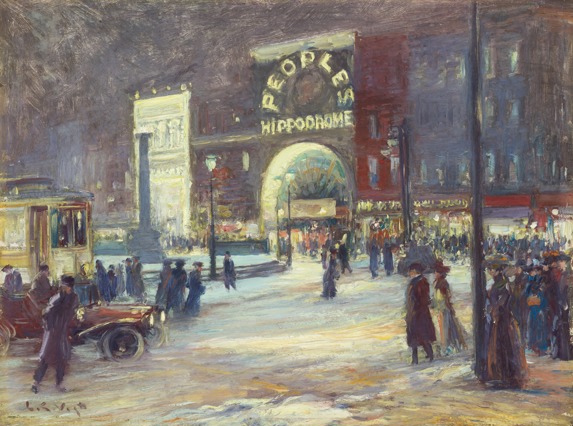 Louis Charles Vogt (1864–1939), United States, Peoples Hippodrome, Cincinnati, 1907, oil on board, Museum Purchase: Dexter Fund and Gift of Hirschl and Adler Galleries, by exchange, 2016.3
Peoples Hippodrome, Cincinnati of 1907, a recent acquisition on view for the first time in the Cincinnati Wing (Gallery 123), represents the moment when an evening at the movies was a novelty. The New York firm of Loew and Warfield opened the Peoples Penny Hippodrome arcade, an ancestor of today's Loew's movie theater chain, in 1905 on Fountain Square. The arcade featured Mutascopes or other early, coin-operated motion picture machines designed for individual viewing of short films, which appeared like a flip-book. Excited by a visit to an improvised movie theater in a Covington brownstone building, Marcus Loew soon added a projector and theater seats to the Hippodrome's second floor and attracted enormous crowds. With the rampant popularity of movie-going and advances in motion picture technology, Peoples Hippodrome, nevertheless, was quickly out of date. The building was demolished after only five years to make way for a luxurious state-of-the-art movie palace.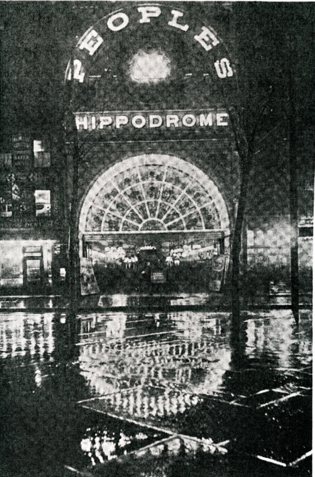 Peoples Hippodrome from Good Lighting and The Illumination Engineer 2 (October 1907), pp. 574 and 575.
The artist Louis Charles Vogt was engaged with Cincinnati as a modern city. Its new streetscapes and the construction of buildings and bridges were among his favorite themes. Vogt's energetic compositions and flickering brushwork evoke the dynamic transformation of the urban environment in the twentieth century's early years. The atmospheric Peoples Hippodrome provides a rare and vivid glimpse of nightlife downtown, as city dwellers brave a chilly winter's evening to flock to the enticing arcade by streetcar, automobile and on foot. The extreme illumination of the arcade created a sense of wonder that Vogt effectively suggests in this nocturnal scene. In Spectacular Lighting in Cincinnati, an article in the October 1907 issue of Good Lighting and The Illumination Engineer, the author described the arcade's side of Fountain Square as "Cincinnati's most brilliantly lighted block. It is also said to contain as many or more incandescent lamps than any one business square in the United States."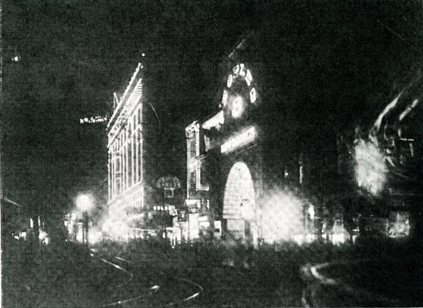 Cincinnati's Most Brilliantly Lighted Block from Good Lighting and The Illumination Engineer 2 (October 1907), pp. 574 and 575.