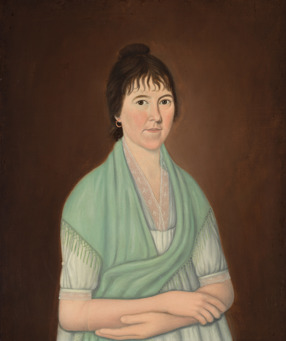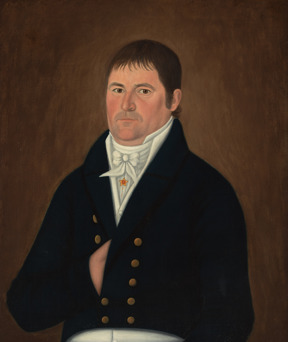 Amid the more than 100 works of art from private collections in A Shared Legacy: Folk Art in America (on view through September 3) are several exciting new additions to the permanent collection. Here, I would like to introduce you to Captain and Mrs. James Perkins, Jr., whose portraits from the early 1800s by John Brewster, Jr. (1766–1864) are on display at the Cincinnati Art Museum for the first time. 
Any of you who have spent time in Southern Maine are well familiar with the name Perkins, which may bring to mind Perkins Cove in Ogunquit, with the footbridge over its charming harbor and delectable lobster rolls. Genealogical research on this couple has proven more complicated than it seemed at first, as there are several branches of the Perkins family; one quickly becomes exasperated with the confusing repetition of favorite names. Thankfully, the portraits of Captain and Mrs. Perkins have old and informative labels on the reverse of their frames, presumably supplied by a descendant. James Perkins and his wife Sarah, known as Sally, were both natives of Arundel, Maine. Sarah appears to have descended from a different line of the family than her husband, hence when she married she became Sarah Perkins Perkins. We have yet to discover many details of their lives, but there is an account of James's and his father's "heroic efforts in rescuing and reviving six people from drowning in the Kennebec River" on November 29, 1800. Sarah and James had twelve children before Sarah's death in 1816 at the age of forty-four. After her death, James married her sister, Susannah Perkins Perkins. James died on July 14, 1845 and is buried in Perkins Cemetery in Kennebunkport.
The itinerant portraitist John Brewster, Jr. established a devoted clientele in Kennebunkport and surrounding communities from about 1797 to 1809. He painted several members of the Perkins clan, including Susannah Perkins and her first husband, Thomas Perkins, whose portraits share the half-length format and simple, modulated backgrounds with this pair. Born in Hampton, Connecticut deaf and mute, Brewster was the son of medical doctor who provided him with a cultural education and taught him to write. By writing, as well as signing with his hands, he was able to communicate with his sitters. Brewster is generally considered a folk painter, as his training was limited to some instruction from a self-taught artist, Reverend Joseph Steward. Brewster also learned from the portraiture of other painters active in Connecticut, such as Ralph Earl. His activities as painter increased after he joined his brother in Buxton, Maine, in 1796. The gravitas, delicate modeling, fine details and soft palette we see in the Cincinnati portraits are all typical of Brewster's work.  
Visit A Shared Legacy to see these recent acquisitions in the company of Brewster's delightful pair of children's portraits from the Barbara L. Gordon Collection.
Image Credits:
(L) John Brewster, Jr. (1766–1864), Sarah "Sally" Perkins, (Mrs. James Perkins, Jr.), circa 1800–1809, oil on canvas, Bequest of Joycelyn Bauer Norris in gratitude to the Cincinnati Art Museum, 2016.258
(R) John Brewster, Jr. (1766–1864), Captain James Perkins, Jr., circa 1800–1809, oil on canvas, Bequest of Joycelyn Bauer Norris in gratitude to the Cincinnati Art Museum, 2016.257