A knife, a spoon, a squeeze bottle, and an unforgiving eye for detail.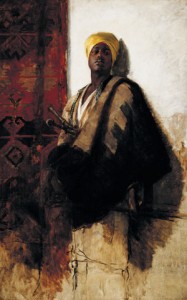 These are the tools we use on a daily basis in the kitchen at the Cincinnati Art Museum. Creating a balanced and inspired menu is our goal. It's a challenge upon which my team and I thrive, with the help of our surroundings. Walking through halls filled with priceless treasures and artworks is like walking through Findlay Market – there's inspiration around every corner. My favorite painting, Guard of the Harem (pictured right), was the inspiration for our Moroccan Spiced Lamb Chops with peach chutney. Every new acquisition and exhibition presents the challenge to create something new. Our job is very rewarding. I consider our culinary creations to be our contribution of art to the Museum. The Terrace Café allows us to experiment with refreshing takes on traditional favorites and share them with you. Please step into our artistic wonderland and take a bite of our art!  See the FOX19 news clip to get another glimpse into the Terrace Café.
 Please stop in and see us!  The Terrace Café is open Tuesday through Sunday 11-3.
Image Credit: Frank Duveneck (American, b. 1848, d.1919); Guard of the Harem, 1880; oil on canvas; Gift of the Artist; 1915.115