Evenings for Educators is the museum's monthly teacher development program. Each event features two teachers (one Elementary and one Secondary) who create and implement a lesson plan in their classroom. Attendees get a copy of that lesson plan in their folders the night of the program and also have the chance to ask the Museum Teachers questions. Each lesson references artwork from the museum's permanent collection, ties into the theme of the program and incorporates visual art with another discipline. Please enjoy this sneak peak of the Elementary lesson plan by Museum Teacher Terry Haynes-Toney.
November 16th, 2017 Museum Teacher: Terry Haynes-Toney
My sixth grade students have been busy fashion designers of conventional and unconventional materials and have been very excited about this project. One class worked in garments, the other in shoes. I am focusing at this time on the shoes. The first picture here was designed by two boys. When interviewing them about their design, they said they drew inspiration from Iris van Herpen's Refinery Smoke Dress because they wanted their statement to reflect how humans are affecting the planet.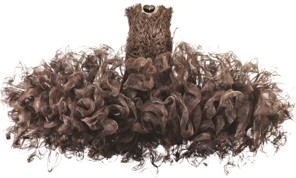 Above: Iris van Herpen (b. 1984), the Netherlands, Refinery Smoke, Dress, July 2008, untreated woven metal gauze and cow leather, Groninger Museum, 2012.0196. Photo by Bart Oomes, No 6 Studios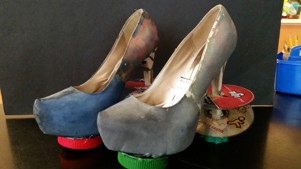 At the time I interviewed them about their work, they were focused on the blue shoe. Their explanation regarding the design was the planet at one time was a beautiful blue (referring to the water and air) but as you go further down the shoe toward the heel you notice the mottling and gray/brown setting in. This is to reflect the pollution. After speaking with the two artists after class, they explained the gray shoe reflected the death/dying of the planet.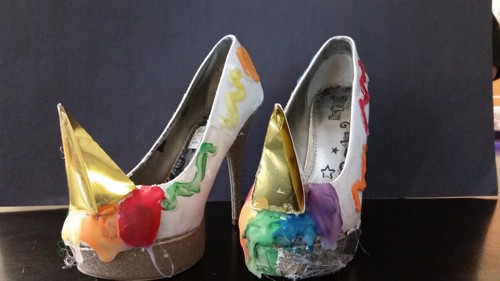 The second team featured here were two sixth grade girls. In my stash of odds and ends were Tea Forte wrappers. They deconstructed and then reconstructed the tea wrappers so the gold foil was on the outside of the triangular prism. The girls call them the "Unicorn Shoes". The bright rainbow colors and strategically placed triangular prisms bring a smile to one's face.  I think the picture is worth more than 1,000 words.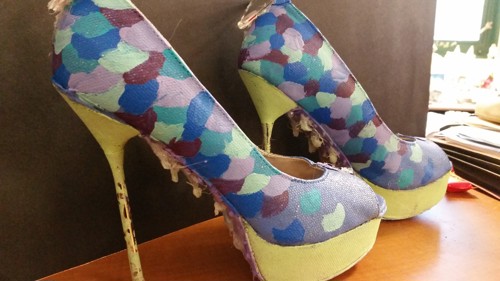 The next pair of shoes are the "Mermaid Shoes". Notice the soles; the team painted the underside of the shoe purple and then used glue guns to create a similar effect in Iris van Herpen's Hacking Infinity shoes. The team likes mermaids because they are magical creatures that make people smile. Below is a picture of their shoes.