Evenings for Educators is the museum's monthly teacher development program. Each event features two teachers (one Elementary and one Secondary) who create and implement a lesson plan in their classroom. Attendees get a copy of that lesson plan in their folders the night of the program and also have the chance to ask the Museum Teachers questions. Each lesson references artwork from the museum's permanent collection, ties into the theme of the program and incorporates visual art with another discipline. Please enjoy this follow up blog about the Elementary lesson plan on Louise Nevelson by Museum Teacher Terry Haynes-Toney.
March 15, 2018 Museum Teacher: Terry Haynes-Toney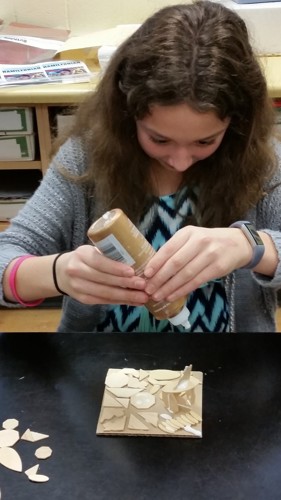 As we started week one of Louise Nevelson, Working with Shapes and Form, it was a bit rough as we were interrupted with well-earned snow days!  My sixth-grade artists viewed and discussed several of Nevelson's artworks, discussing how pieces look more unified with one color and how the forms, space and light are created. They rolled up their sleeves and began working on their 5"x 5" interpretation.
I used a Google Slides presentation to introduce the project. Our focus of the lesson was on form, an element of art. In looking at Nevelson's Nightscape III the discussion led to the building of shapes to create a foreground, middle-ground and background to create space which emphasized form.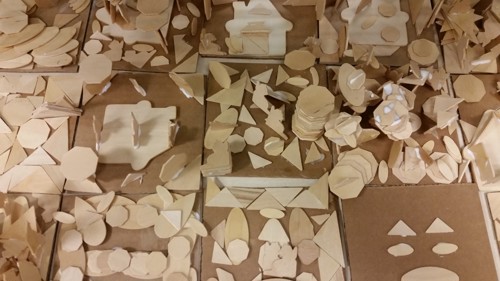 Students were provided with a variety of wooden shapes which I had inherited. This picture was taken after the first class session, approximately 30 minutes of work time. Each student was given a 5" x 5" piece of corrugated cardboard and a tray of various wooden shapes. The project as explained is each person will create a relief piece of work using the wooden shapes. As we were discussing Nevelson's works, we talked about layering to create form and space within a defined area.
 The mistake on day one was not explaining that they needed to stay within the 5''x5'' parameters as each work will be 'quilted' together to create a collaborative class work. The following class we spoke about how the individual works will be 'quilted' together and their work as planned might not work in the class composite.
I note here that the students were offered a challenge or "Stretch Project" which stated that they could work on a second Nevelson inspired project with items that could be brought from home to create a work in a copy paper box lid. These items could/should be a reflection of a passion the group creating it share.  Several students in each class as of this past class (and them finishing their 5" x 5" Nevelson collaborative square) have expressed an interest in this challenge.