Evenings for Educators is the museum's monthly teacher development program. Each event features two teachers (one Elementary and one Secondary) who create and implement a lesson plan in their classroom. Attendees get a copy of that lesson plan in their folders the night of the program and also have the chance to ask the Museum Teachers questions. Each lesson references artwork from the museum's permanent collection, ties into the theme of the program and incorporates visual art with another discipline. Please enjoy blog post about the Elementary Lesson plan by May 17th, 2018 Museum Teacher Shelly Sheats Harkness.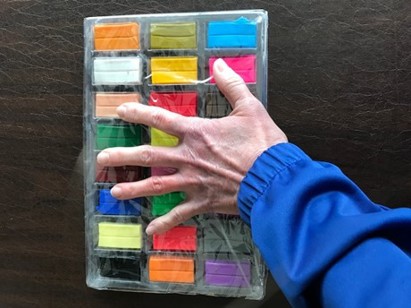 Three of us, a mathematics teacher educator (me), mathematics coach (Lori Cargile) and a second grade classroom teacher at Taft Elementary (Allison Pearce), all collaborated in order to introduce Allison's students to the Cincinnati Art Museum's (CAM) exhibit, Terracotta Army: Legacy of the First Emperor of China. Allison routinely uses a station rotation model for mathematics lessons so the lesson we created included three stations. The day before the lesson implementation I sent another message to Lori, "This is going to be fun! Good thing I ordered four packages [of clay]."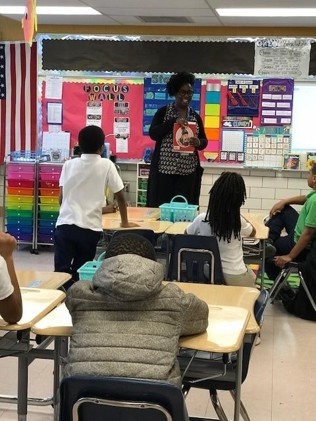 Lori launched the lesson by reading parts of the book, The Emperor's Silent Army, by Jane O'Connor (available in the CAM gift shop), and posing the questions: "What do you think the farmers dug up? What is a warrior? What does an archaeologist do? What is terracotta?" Lori then showed a Nat Geo Kids video clip: "China's Terra Cotta Warriors" (click here to watch). Six students were assigned to each group. They spent 20 minutes at each station. At Lori's station the students created clay warriors to protect their teacher, The Empress.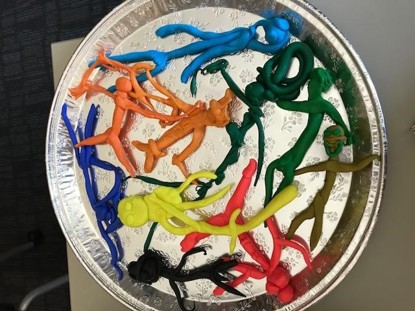 At my station pairs of students played a traditional Chinese board game similar to tic-tac-toe called Pong Hau K'i (click here to learn more). Each student had two game pieces of the same color and took turns moving pieces. For each turn a student moved one of their pieces to an adjacent vacant vertex. When a student could not move because they were blocked (there was no adjacent vacant vertex) then the player lost. After students played a few games we discussed winning strategies.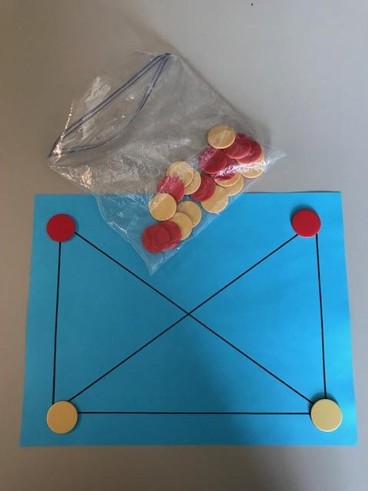 At Allison's station, students used rulers to illustrate the average height of a Terracotta Warrior, 5 feet 8 inches. They then estimated how many of the small warrior figures (about 8" in height and available in the CAM gift shop) it would take to be the same height as the average Terracotta Warrior.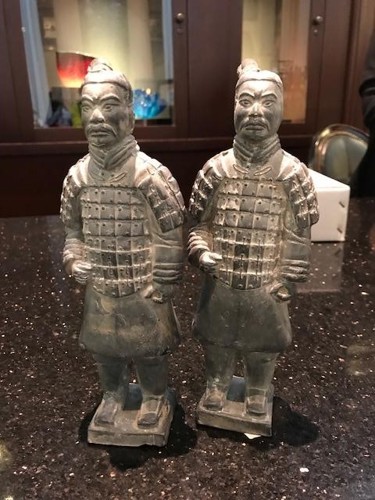 When students were asked what they liked the most, all three stations were deemed "best." The station rotation model allowed students to experience hands-on activities related to China and the Terracotta Army exhibit. Indeed it was a fun day for students and teachers!