Evenings for Educators is the museum's monthly teacher development program. Each event features two teachers (one Elementary and one Secondary) who create and implement a lesson plan in their classroom. Attendees get a copy of that lesson plan in their folders the night of the program and also have the chance to ask the Museum Teachers questions. Each lesson references artwork from the museum's permanent collection, ties into the theme of the program and incorporates visual art with another discipline. Please enjoy this sneak peek of the Secondary Lesson plan by May 2018 Museum Teacher Amy Cholkas.
May 17, 2018 Museum Teacher: Amy Cholkas
If you travel to the 3rd floor of the Cincinnati Art Museum, you will find a fascinating horse by contemporary artist Deborah Butterfield. The life-sized equine sculpture is simply called Horse No. 1 and is composed of hundreds of individual sticks and red mud over an armature of metal. Butterfield lovingly cares for her own horses and she rides dressage on her ranch in Bozeman, Montana. Perhaps this personal experience explains how she captured the spirit of the horse using materials and found objects from her own environment.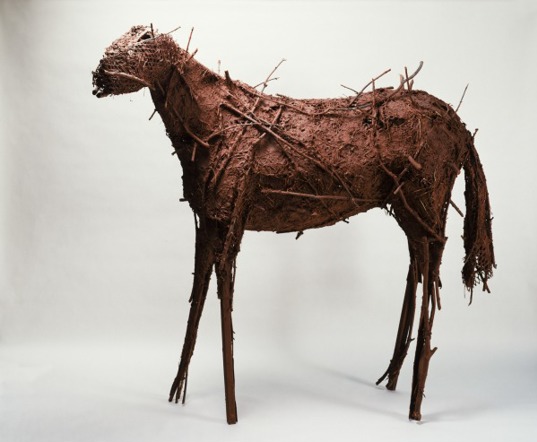 Like Deborah Butterfield's horses, the warriors and horses featured in the Museum's current exhibit- Terracotta Army: Legacy of the First Emperor of China were made of local materials, specifically terracotta clay from the Shaanxi province, near Xian, China. New Richmond Middle School art students, recently toured the actual site via Google Earth and then researched the Terracotta Army found in the tomb of Qin Shi Huang. Students learned that the terracotta warriors and horses were made in separate parts and then assembled together. The cavalry horses were joined with mud starting with the legs, then body, neck, head and finally the tail. In the exhibit, you can see the large hole in the flank (side) of the horse which provided ventilation while being fired in a kiln.
My art students could have used clay to build horses, but they were challenged to use other media in and out of the art room. Some sewed and stuffed a horse sculpture, others made a metal repousse horse (hammered into relief from the reverse side), and some made horse sculptures using sticks collected from the woods on our campus. After learning how to use plastic wrap and packing tape to cast body parts like contemporary artist Mark Jenkins, many students assembled pieces to build translucent human and equine sculptures. Maybe "horsing around with media" has inspired the next generation of sculptors!