March is Women's History Month—commemorating and encouraging the study, observance, and celebration of the vital role of women in history. 
Special exhibition Women Breaking Boundaries, which ran in two parts from October 11, 2019–January 10, 2021, explored the role of women in art and art history through works from the museum's permanent collection created from the seventeenth century to today.
Extensive research for the exhibition revealed that, compared to a national average of 12.6 percent female artists in institutional collections, CAM's collection features 17.2 percent. However, there is room for improvement, and we as an institution are committed to implementing change. This exhibition was one catalyst to engage visitors in questions about institutional representation of women artists and the meaningful strides we are making to encourage gender parity at this museum, but the work doesn't stop there. 
Enjoy these works by artists who identify as female in the museum's permanent collection, or pick up a Collection Highlights Visitor Guide at the Front Desk to explore the work of women artists during your next visit. Advanced registration is required. 
Mary Cassatt (1844–1926)
Baby in Dark Blue Suit, Looking Over His Mother's Shoulder, circa 1889, Mary Cassat (1844–1926), France, oil on canvas, Cincinnati Art Museum; gift of John J. Emery Fund, 1928.222
Mary Cassatt, painter and printmaker, spent her career as an expatriate in France, where she exhibited with the Impressionists. She created images of women's private lives, especially the bond between mothers and children. See Baby in Dark Blue Suit, Looking Over His Mother's Shoulder in Gallery 216.
Elizabeth Catlett (1915–2012)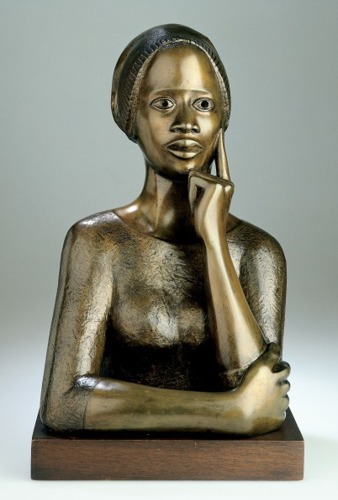 Phillis Wheatley, 1973, Elizabeth Catlett (1915-2012), bronze, Museum Purchase: Dr. Sandy Courter Memorial Fund, Lawrence Archer Wachs Fund, A. J. Howe Endowment, Henry Meis Endowment, Phyllis H. Thayer Purchase Fund, Israel and Caroline Wilson Fund, On to the Second Century Endowment, © Catlett Mora Family Trust/Licensed by VAGA at Artists Rights Society (ARS), NY, 1999.215
Elizabeth Catlett drew on a range of creative traditions, from Mexican muralists, the African American collection at the Barnes Foundation, and the European masters, including Van Gogh. Invigorated by the Black power and feminist movements, she has specialized in images of empowered woman, often African American or Mexican, throughout her career. See her sculpture Phillis Wheatley in Gallery 211.
Jeanne Lanvin (1867–1946)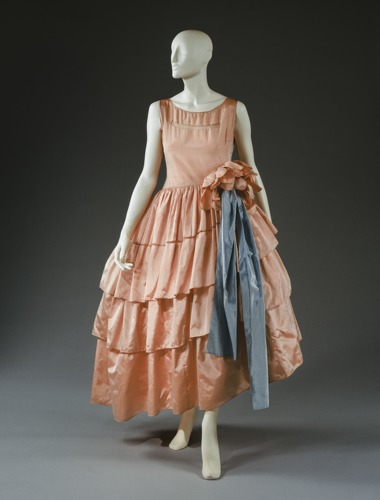 Evening Dress and Hoop, 1927, France, silk, Gift of Mrs. Raymond M. Lull, 1976.206a
Throughout her career, Jeanne Lanvin was firm in her belief that "women were meant to wear clothes of unabashed femininity." Her work represented the survival of romantic clothing. Evening Dress and Hoop is a light-sensitive work and is currently not on view.
Chiyo Mitsuhisa (active 16th century)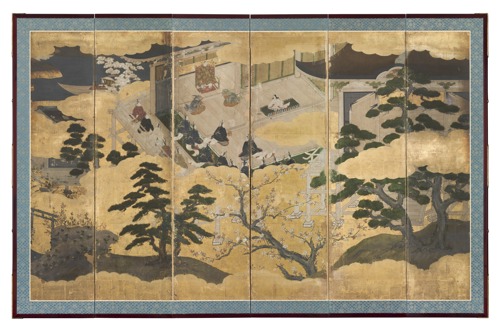 Presentation of a Prince, early 17th century, Japan, color and gold leaf on paper, The Thoms Collection; Given by Mrs. Murat H. Davidson in Honor of her Grandfather, Joseph C. Thoms, 1982.6
Chiyo Mitsuhisa was one of the very few distinguished female artists in Japanese painting history. Mitsuhisa became a well-known illustrator of story and poetry books and was particularly famous for her illustration of the Tale of Genji. Presentation of a Prince is a light-sensitive work and is currently not on view. 
Elizabeth Nourse (1859–1938)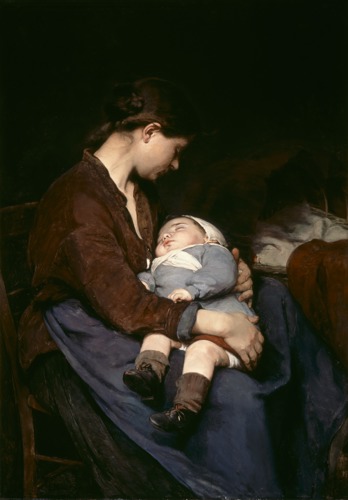 A Mother (Une mère), 1888, oil on canvas, Gift of The Procter & Gamble Company, 2003.93
Born in Mount Healthy, Ohio, Elizabeth Nourse was the first woman admitted to the women's life class at the McMicken School of Design. She moved to France in 1887, where she pursued a career as a realist-style painter focusing on genre, portrait and landscape. See A Mother (Une mère) in Gallery 119.
Georgia O'Keeffe (1887–1986)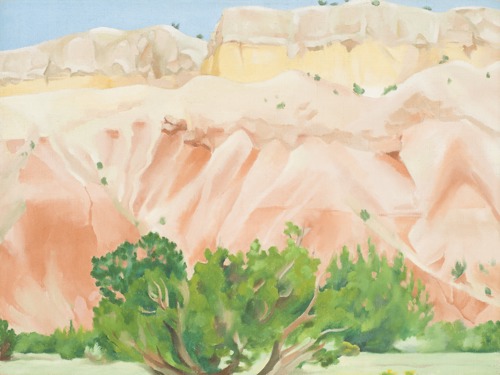 My Back Yard, 1943, United States, oil on canvas, Museum Purchase: The Edwin and Virginia Irwin Memorial, Fanny Bryce Lehmer Endowment, Bequest of Mr. and Mrs. Walter J. Wichgar, John J. Emery Endowment, Mr. and Mrs. Harry S. Leyman Endowment, and Rieveschl Collection Fund, © 2018 Georgia O'Keeffe Museum / Artists Rights Society (ARS), New York, 2013.51
Georgia O'Keeffe was idolized by the Women's Liberation Movement that began in the 1960s as one who cared little for social and aesthetic norms. Feminists read O'Keeffe close-up portrayals of flowers as symbols of female sexual freedom, an interpretation the artist steadfastly denied. Her intention, she noted, was to make people truly look at nature. See My Back Yard in Gallery 211.
Nancy Rexroth (b. 1946)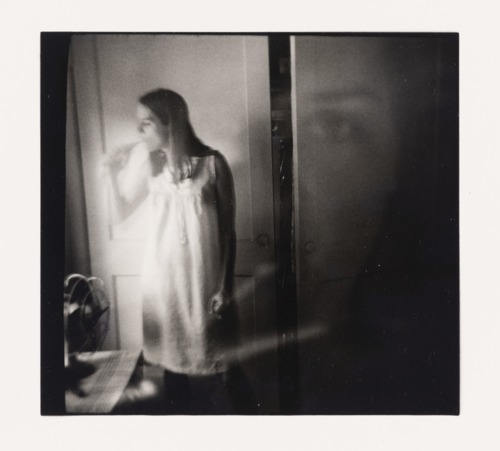 Brushing Teeth, My Mother's Bedroom, Arlington, Virginia, 1969, The Nancy Rexroth Collection: Museum Purchase with funds provided by FotoFocus Art Purchase Fund, © The 1988 Rexroth Family Trust, 2019.262
In the early 1970s, American photographer Nancy Rexroth (b.1946) created a body of images that stands as a unique achievement in photographic history. Using a camera manufactured to be a toy, Rexroth rendered the rural towns of southeastern Ohio as a waking dream of white clapboard houses, innocent joy and half-remembered sadness. Brushing Teeth, My Mother's Bedroom is a light-sensitive work and is currently not on view. Learn more about the Rexroth collection here.