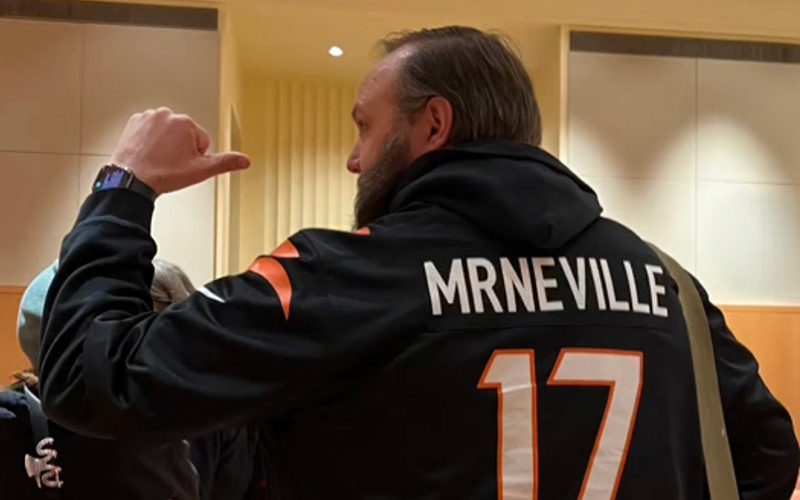 CPS Art Teacher James Neville shows off his personalized Super Bowl XLI Bengals jersey
This story begins with Samantha Gaier, the museum's Associate Director of School-Based Learning, asking about my personalized Super Bowl XLI Bengals jersey during a "visual arts professional development day" for art teachers with Cincinnati Public Schools. Little did she know, the jersey was just a small part of a larger story, a love story that began almost 40 years earlier.
I first met my future wife Alicia Ann Young when she moved to my part of town and joined Mrs. Gardner's third grade class at Clough Pike Elementary in 1985. We stayed in school together through high school, but we never got together romantically.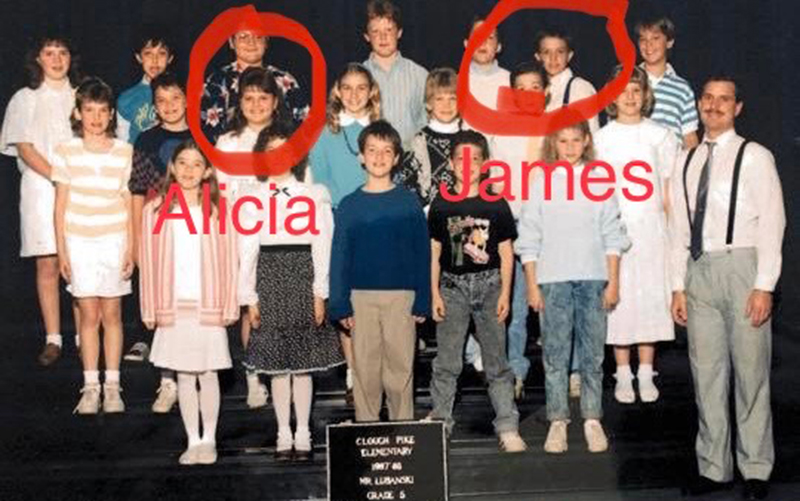 Fifth grade class photo, with Alicia and James circled
Fast forward to Valentine's Day 2015. I had gone to college for my bachelor's and master's degrees and had been teaching K–6 art classes at CPS for three years. Alicia had been married and divorced with 19-year-old twin sons and had authored a highly successful poetry book titled Hell on Heels. The only contact we had at that point in our lives was Facebook, and I noticed that we shared many of the same interests and similar senses of humor. I sent her a DM, basically listing the reasons why we would make good "real life" friends and invited her to hang out sometime.
We first met for a drink in Clifton, before driving together to the Cincinnati Art Museum. We walked through much of the permanent exhibitions, and discussed art, life, family—and had a wonderful time. At one point, we were in the REC, and I made a tape and tissue paper sun-catcher. Alicia said this moment is when she first knew that she loved me. I didn't even realize it was a date, which is probably why I didn't kiss her until our second date! From that point forward, we were together. We were married in front of family in November 2017. 
Over the years, personally and professionally, CAM has always held a special place in my heart. I have attended professional development programs at the museum such as Evenings for Educators and the Summer Teacher Institute. I have also brought students to the museum on field trips and participated in collaborative projects between the museum and CPS students.