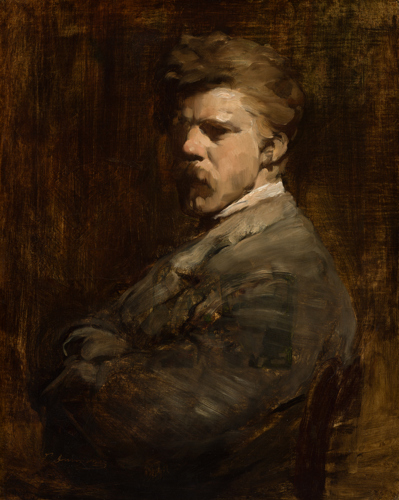 Once Cincinnati's most celebrated artist, Duveneck was born in Covington to Westphalian immigrants in 1848. He studied in Munich, Germany, where he became an influential teacher, and spent nearly two decades in Europe. His work reflected the impact not only of modern German art, as is widely acknowledged, but also French and Italian work. His paintings' lack of finish and assertive brushwork parallel Impressionism, and his work as a printmaker positioned him centrally in the period's etching revival.
A captivating educator of men and women, Duveneck counted John Henry Twachtman and Elizabeth Boott among his pupils and James Abbott McNeill Whistler among his collegial friends. Returning to the United States in 1888, Duveneck taught at the Art Academy of Cincinnati, where he became director of the faculty in 1905. As a mentor and esteemed advisor to collectors and the Cincinnati Art Museum staff, Duveneck's impact on the Cincinnati art world remains unparalleled.
Despite the variety of his styles, techniques, and media (Duveneck painted in an exceedingly loose but later also a more contained manner, while working in sculpture and printmaking as well), it is usually his earlier, more open, fluid, and flowing paint application for which he is best known today. Often associated with the school of Munich-American realism but sometimes called impressionistic as well, Duveneck's way of painting, alongside of William Merritt Chase, J. Frank Currier, and others, including John Singer Sargent himself, is frequently named as the driving force behind the more bravura-oriented styles of depiction that became dominant in many sectors of the modern American art scene after the mid-1870s. Critics often placed his among the first generation of so-called American painters' painters.
Duveneck's impact is alive today in many corners of the collection of the Cincinnati Art Museum. He not only donated his own work, and pieces he owned by colleagues, but also participated actively in shaping the collection. The artist partnered with Joseph Henry Gest, the museum's assistant director (and its second director from 1902), to form a notable collection of contemporary American art, principally American Impressionism. He advised on purchases, negotiated prices, and used his influence and friendships to act as an intermediary between the museum and East Coast painters. He also alerted Gest to those artists he felt deserved an exhibition or acquisition. On Old Master paintings, his opinion was the final word. "Mr. Duveneck does not see anything in this worth the museum considering," reads a note attached to a dealer's offer. Private collections like Mary M. Emery, whose superb holdings were destined for the museum, also relied upon the artist's expert advice. It would be a daunting task to count the works of his students represented in the collection.
When Duveneck passed away in 1919, he was the most beloved and respected artist in Cincinnati and an acknowledged father of American art. In 1928, Norbert Heermann, a former pupil, published an encomium that opens with the endlessly repeated bit of hyperbole, quoted from a casual remark John Singer Sargent made at a London dinner party: "After all's said, Frank Duveneck is the greatest talent of the brush of this generation." More meaningful, perhaps, is a later quote from an interview with Robert Henri, the leader of a subsequent generation of painters committed to capturing the vitality of daily life. Upon seeing the display at the Cincinnati Art Museum, Henri reportedly told Mary L. Alexander of the Enquirer:
Duveneck is a great master; no student of painting if he were awake could go through that gallery and not be inspired by the great order of expression…and also not be inspired to develop for himself a technique of corresponding dignity. He is an extremely sensitive painter, a great draughtsman and every stroke of his brush manifests a consciousness of life, an intense conception of nature.
Read more about the artist in the catalogue Frank Duveneck: American Master recently published by the Cincinnati Art Museum in association with D Giles Limited. Now available for purchase in our Museum Shop. 
Special exhibition Frank Duveneck: American Master is scheduled to run through March 28, 2021. Advanced online registration is required to visit the museum. Learn more. 
Frank Duveneck (1848–1919),United States, Self-Portrait, circa 1877, oil on canvas, Cincinnati Art Museum; Gift of the Artist, 1915.122