by Amy Burke, Director of Visitor Services and Franck Mercurio, Publications Editor
The museum's Green Team recently took a field trip to learn more about recycling opportunities in our region. With our individual recyclables in tow, we visited Cincinnati Recycling & Reuse Hub (CRRH) and were wowed by this organization. The Hub's Warehouse Director Carrie Harms showed CAM staff the first-floor drop-off area, where she talked about the different types of recyclables the Hub can take—from plastics and glass to paper and aluminum and much more. Afterward, Carrie gave us a tour of the Hub's Reuse Center, where anyone can stop by and pick up gently used or no-longer-needed items, including office supplies, plastic planters, and even samples of building materials.
Sixteen staff members from across the museum currently make up CAM's Green Committee or Green Team (as we like to be called!) Our mission: to help CAM become a more environmentally friendly institution. A big step in reaching this goal is learning about—and implementing—better recycling practices in pursuit of overall waste reduction here at the museum. But we can't do this alone. We rely on partners such as the CRRH and other organizations to help us make meaningful shifts in sustainability.
CAM's commitment to our community has been a driving force in our sustainability efforts. It is great to meet with other organizations who are also committed to our community. We look forward to partnering with CRRH in the future and recycling with them. Our next "date" is already planned—the Cincinnati Art Museum Summer Teacher Institute (July 18–20) will visit Cincinnati Recycling & Reuse Hub next month—can't wait! 🤍
Want to learn more about the museum's sustainability efforts? Visit our sustainability webpage.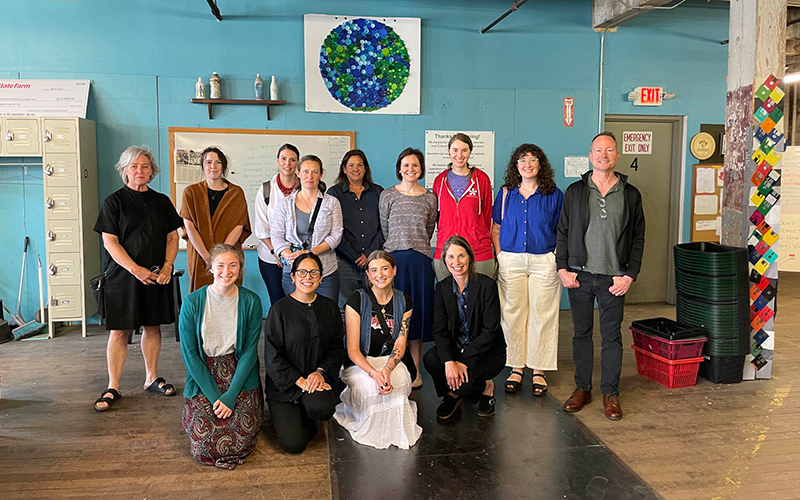 Members of the museum's Green Team visit the Cincinnati Recycling & Reuse Hub, June 15, 2023.