Come see our Hollywood and cinema archival material on display in the Mary R. Schiff Library! It features photographs, announcements, and brochures from the exhibition Hollywood: Legend and Reality held at the Cincinnati Art Museum in 1987, a hit that gave Cincinnati a taste of glamour and scandal. It also showcases information on George Hurrell, a Hollywood photographer from Covington, and pamphlets from the CAM exhibition on Disney drawings and cartoons from 1985. Plus, there are some materials on the fantastical Fantasia, which was shown here in 1941. To find out more on the Hollywood display, we interviewed our savvy archivist, Geoff Edwards: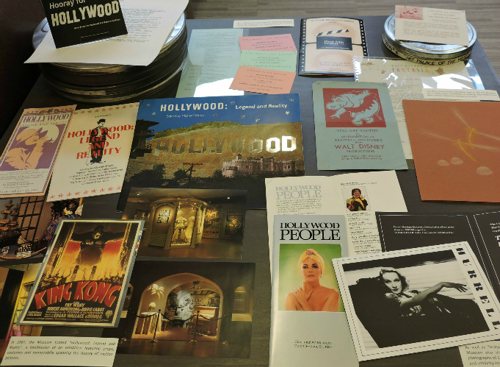 Geoff, thank you so much for choosing these materials to share with the public! What made you think of Hollywood for this display?
Some of the photos of the Hollywood: Legend and Reality exhibition featured on the Museum's Facebook page last month at the time of the Oscars –can I say Oscars, or will the Academy come after me for trademark infringement? –started to make me think about all the other film-related items we have in the archives.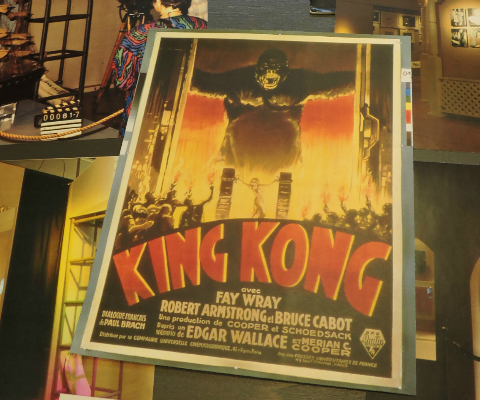 At least as early as the 1930s the Museum was staging motion picture programs for its members, recognizing that film-making was an "art of the twentieth century". The programs initially focused on documentaries, foreign films and the like, but later included more populist subjects, such as comedies and animated cartoons.
Since then –almost continuously –the Museum has staged regular film screenings. Even as we speak, the Museum is participating in the Cincinnati Reel Abilities Film Festival, the region's largest film festival.
Why did you choose these materials to share?
I wanted to pick materials that illustrated the story of how the Museum has embraced the motion picture as an art form, from those early film screenings to the blockbuster exhibition from 1987, Hollywood: Legend and Reality. Since then, there haven't been any exhibitions so explicitly focused on the art of the motion picture, but I think there's definitely an audience out there.
Was there anything you had to leave out?
When I was picking items out for the display, I found far more things than there was room for in our one small case. I wanted to include a letter sent from our former director to 20thCentury Fox just a few months after the release of the first Star Wars movie in 1977, looking into the possibility of staging an exhibition of props and costumes from the film. Sadly this was turned down (although items from the original (and best) Star Wars trilogy did appear in Hollywood: Legend and Reality).
I'd also liked to have included some more behind the scenes documentation, such as the 5-foot-long floor plan of the Legend and Reality exhibition, to give visitors an idea of the kind of work that goes into staging our exhibitions, but there just wasn't room.
What do you hope people take away from this display?
On a personal level, I'd be incredibly happy if someone stopped by our display and were whisked back in time to, say, 1987, when visiting Hollywood: Legend and Reality as a child to marvel at the Millennium Falcon, or perhaps even further back to 1941 when they saw hippos in tutus at our Disney exhibition. I've always said the archives are one of the closest things we have to a time machine.
But if nothing else, I hope that visitors are reminded just how long the Art Museum has been part of the Cincinnati community—130 years in 2016—and the range of activities that we've been involved in during that time.

The display is going to change regularly, and thanks to the extent of both the archive and library collections there'll be something different to see each month, so keep coming back!
Also, we have just added books to our Recent Acquisitions display, and our librarians have chosen books on Japanese art and ceramics to go along withMasterpieces of Japanese Art.  Come see these and our limited-time Hollywood display!