In 2019, the Asian Art Department acquired a Korean painting of the Joseon dynasty (1392–1910) depicting Tiger and Cubs. The Museum has only one other Korean painting of Buddhist subject. This painting not only filled a major gap of the Asian art collection, but also provided new information of the interesting theme of Tiger and Cubs.  
As the king of beasts in China, the tiger is also one of the oldest and most meaningful animal subjects in Chinese painting. Tiger and Cubs is a popular painting theme in both China and Korea. Here, the unidentified artist portrays a large tigress sitting under an old pine tree. Scattering around her are her three cubs: one leaning against her leg, one rolling on the ground, and one half- hidden behind her. This theme originated in China during the tenth century as a realistic depiction of the most challenging subject of tiger painting. Because of the mother tiger's strong protective instincts, intruding upon such a scene might well prove fatal.   
In the Song dynasty, the theme of tiger and cubs had already developed its symbolic association with corrupt officials or governments based on the historical reference to the notorious official, Ning Cheng. Ning was a Han dynasty official who began his career under Emperor Jingdi (156–142 BC) as an imperial receptionist. Even in this lowly position, Ning was already known for his abuse of power and impingement upon the authority of his superiors. After he was promoted to Commandant of Jinan in Shandong, those who served under him were described as "sheep tended by a wolf." During the reign of Wudi (140–88 BC), Ning was demoted to Chamberlain in the Capital, but, once again, he enraged all around him with his harshness and cruelty. Finally, after being advised to keep Ning far from the capital, the emperor sent him to serve as Commandant of the Frontier Pass of Guandong. Soon afterward a popular saying emerged among the people who traveled in and out of the pass: "One would rather face the danger of confronting the scene of a tigress with cubs than witness the rage of Ning Cheng." Hence Ning's nickname of Ruhu (tigress with cubs). 
In the Ming dynasty, however, the symbolic meaning associated with Tiger and Cubs had changed.  It no longer referred to fearfulness of a corrupt official, but instead refers to the Confucian virtue of filial piety. 
The Korean painting suffered severe trimming on the top and sides and was fitted into a frame. In the summer of 2020, with the support of the Dunlap Foundation, I was able to remount the painting into its original format of a hanging scroll. The recent and timely return of this restored tiger painting enables us to display it in the gallery later this year and celebrate the lunar Chinese New Year of the Tiger.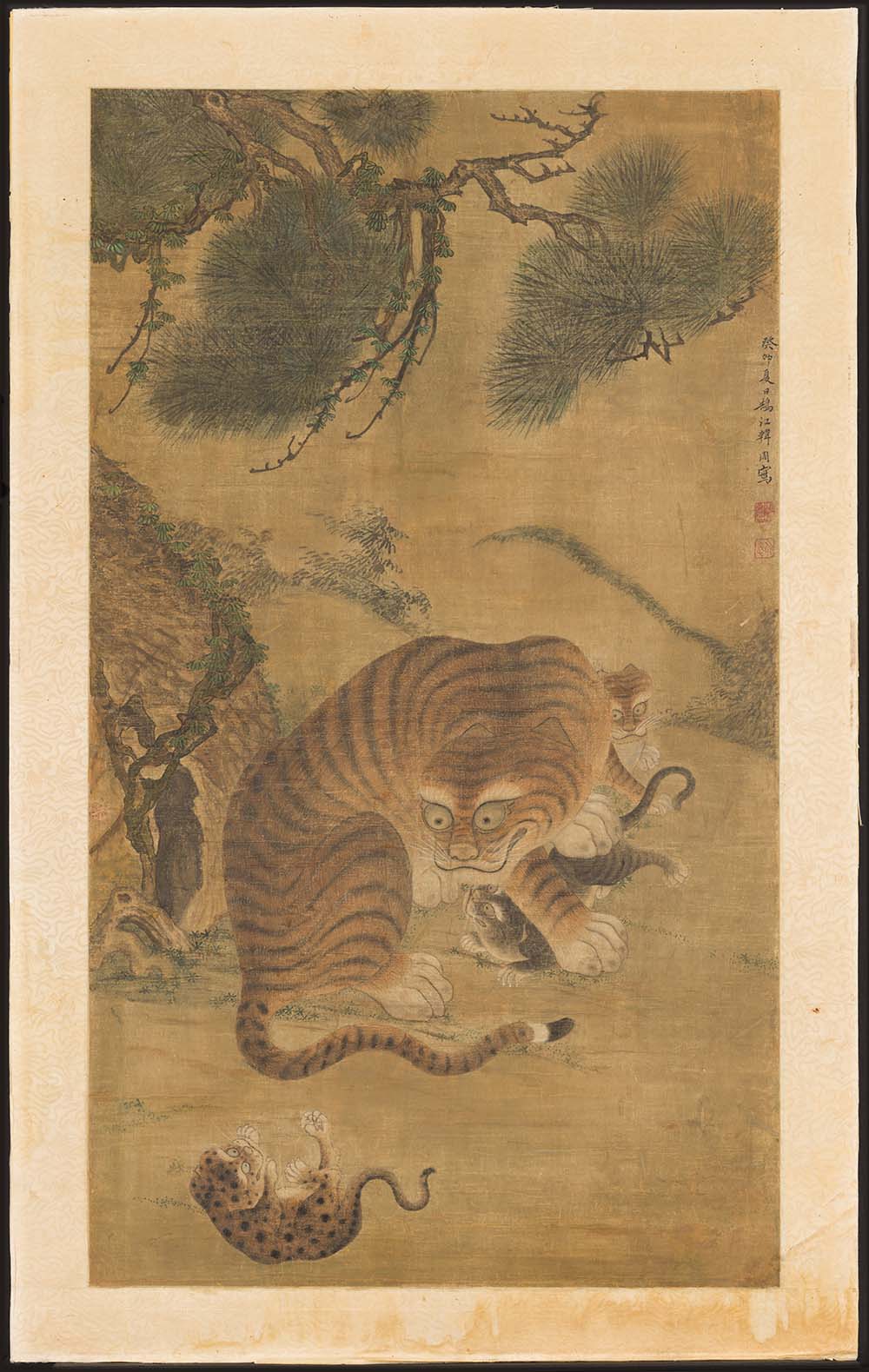 Unidentified Artist (Korean), Tiger and Cubs, 18th century, hanging scroll, ink and colors on silk, Museum Purchase, Lee Cowan Fund for Asian Art, 2019.177