As much as I've tried to avoid the label of "crazy cat lady" over the years, I seem to have assumed the moniker regardless. When CAM announced the current exhibitions Divine Felines: Cats of Ancient Egypt, Modern Cat, and Master Cats, more than one of my fellow staff members approached me to help out with cat-related activities (like writing a kitty-themed blog post). So, how did I get here? What have I done that's so crazy? I own two cats (shout out to Honey and Greyson!). That's it! Really! If I owned dogs, people would call me "normal person who is probably very well adjusted."
If you want to talk about crazy cat people, let's talk about the ancient Egyptians! At least I haven't asked for my cats to be mummified and buried with me (yet). But who knows, just look at these monsters…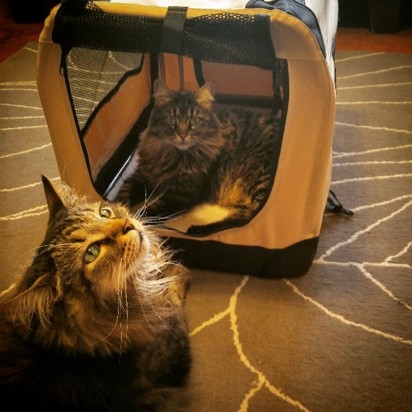 And so what if I go to a Reds game and get soft serve for the sole purpose of providing Greyson with a new hat? Don't let the face fool you – he loved it (for approximately .0005 seconds).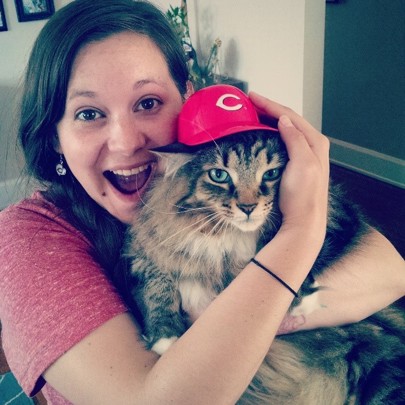 Alright, alright. At this point, I might as well embrace it and go full blown insane person.
As the museum's Web + Digital Media Manager, I spend a lot of time scouring through digitized images of the collection. So, when a fellow CAM cat lady left the museum a few years ago, I took it upon myself to find images of feline artwork in the collection and created cat banners to hang across our Learning and Interpretation office: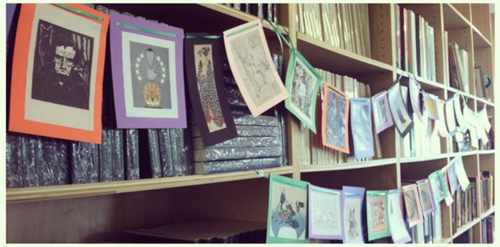 Luckily for you online visitors, I've tracked down a number of these cats for your viewing pleasure on our website:
Head of Cat | The Cat and the Mice | Philosophy Asleep [La Philosophie endormie]
Agnes | Fragmentary Hairpin with Seated Cat Terminal | Catnip
If that doesn't fulfill all of your feline proclivities, you can always head over to the Google Cultural Institute (of which CAM is a partner) and browse 2,800+ artworks featuring cats.
Are you ready to embrace the crazy? Then join me for Fandom: Cat Lovers and we'll discuss the ancient Egyptians, my cats, your cats and more on Saturday, July 23 at 2 p.m.