What inspired you to make Shark Girl?
Shark Girl was inspired as a way to express and divert panic. Replacing the human visage with that of a creature led by instinct and reflex simultaneously disguises and reveals emotions. The mask conceals identity freeing the wearer to behave in an untamed manner. Using this recurring theme allows for expression of impulse while hiding from the socialized.
Do you consider Shark Girl to be your alter-ego?
I did consider Shark Girl to be my alter-ego for years, but she has developed her own character as I have changed mine. She seems to be learning to cope a little better lately, but the same can be said for me. Maybe we are still pretty close.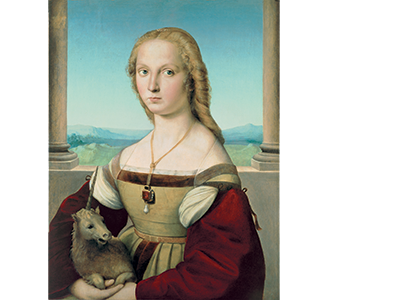 Why do you think people are drawn to fantastical creatures like Shark Girl or the unicorn in Raphael's Portrait of a Lady with a Unicorn? 
People are happy to escape their lives to dream, relieve, explode. I myself seek distraction for mental soothing and disconnect. Not something I'm proud to admit, but there it is.
Join Casey Riordan Millard and make your  own altar ego at Creative Encounters this Sunday November 15th from 1-3 pm.  This workshop will explore the symbolism and significance of hybrid animals in the Renaissance and today.
Reserve your spot online or by calling 513.721.ARTS.
$10 general admission, $5 for members and college students.

Images:
Casey Riordan Millard (American, b. 1973) Shark Girl with Cincinnati Art Museum 2011-2012, wax, resin, polymer clay, papier mâché, fabric, acrylic paint, Museum Trustee Art Purchase Fund 2011.69
Raphael (1483–1520), Portrait of a Lady with a Unicorn, circa 1505–6, oil on canvas transferred from panel, Galleria Borghese, Rome, inv. 371