As curator of decorative arts and design at the Art Museum, I work with a collection so wonderfully diverse that, well, it sometimes makes my head spin. This collection includes nearly 7,000 objects (to which we are constantly adding) and encompasses furniture, ceramics, metalwork, glass, architectural elements and musical instruments from the Western world, dating from the 17th century to now. Oh, and I also curate our rotations of classic and concept cars and contemporary Japanese ceramics. Almost anything is fair game. But, as dizzying as this can be, it's why I love my job. There is NEVER a dull moment or shortage of subjects.  And, luckily, I'm never forced to pick a favorite time period, medium, or place.  I can love it all.
My upcoming project has kept me focused on the 19th century, but this weekend (February 21-23) I put the Victorians on hold and indulged my love of Modernism. Friday night began with the member's opening of From the Village to Vogue: The Modernist Jewelry of Art Smith at the Art Museum. Organized by the Brooklyn Museum of Art and curated by the Cincinnati Art Museum's Cynthia Amnéus, who always adds her own, fresh twist to things, it includes 24 pieces of jewelry created by African American artist Art Smith and 48 works by his contemporaries, including Alexander Calder and Harry Bertoia.  All of this, supplemented with archival materials from the artist's estate, including sketches, tools, model photos, and even his shop sign, makes for a show that any devout modernist would hate to miss.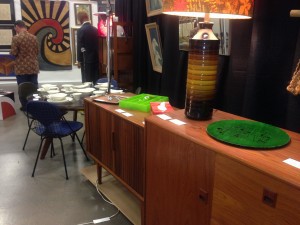 Saturday morning I was up unusually early and off to the Sharonville Convention Center for the kickoff of the two-day, annual 20th Century Cincinnati show of vintage modern art, furniture, and fashions. This is the 20th year for the show and it keeps getting bigger and better thanks to the work of Bruce Metzger, the show's organizer. I always look forward to this weekend in February and make a point to arrive early for the "Java Preview" to scout out the best and most interesting pieces. This year's show featured 75 dealers, some coming from as far as New York and Iowa. Wares ranged from classic Art Deco and cool mid-century Modernism to vintage kitsch. As usual, there was something for every taste and every budget. Charley and Edie Harper prints, Eames chairs, Russell Wright ceramics and Blenko glass were just some of the treasures to be found.
Each year, the show includes a special, focused exhibition, typically comprised of loans from several regional collectors and/or dealers. This year's exhibition La Dolce Vita: The Italian Connection highlighted the monumental contributions of Italian designers to the modernist era, beginning with the Futurist art movement and continuing through Post-Modernism. It included fashion, ceramics, glass, furniture, graphic arts, and even a classic Italian motorcycle (see featured image).
If you missed the 20th Century Cincinnati show, don't despair. There are other great ways to get your mod on until next February rolls around.
Check out From the Village to Vogue: The Modernist Jewelry of Art Smith at the Art Museum through May 18, 2014. While you're here, stroll through the permanent collection galleries to see other great works from the Modernist era. Then, hit the Museum Shop for a bevy of modernist goods.
A special spring tour of the Eero Saarinen-designed Miller House in Columbus, Indiana is in store for members of the Cincinnati Art Museum's Friends of Decorative Arts & Design.  To learn more about the Friends of Decorative Arts & Design and how to become a member, contact me at [email protected].
Also stay tuned for the upcoming Modernism Symposium to be held at the Art Museum on April 12, 2014. Four nationally-recognized authorities on the period will cover everything from architecture and home furnishings to crafts, jewelry, painting and sculpture.
Outside of the Art Museum, there are several local non-profit groups who focus on or support modernist interests. These include CF3 (Cincinnati Form Follows Function, a non-profit modern design forum) and the Cincinnati Preservation Association. If it's retail therapy that you are after, check out some of our local auction houses, antique markets, and dealers that carry modernist works. Information on Cincinnati dealers who participated in the 20th Century Cincinnati show can be found here.
So, get out there and get your mod on!
–Amy Dehan, Curator of Decorative Arts & Design