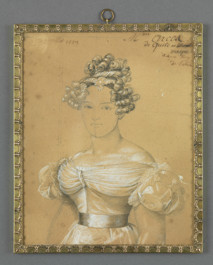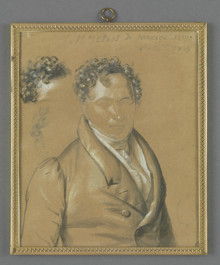 Back in 2004 the Cincinnati Art Museum was given a large gift of almost nine hundred portrait miniatures by the late collector, Charles Fleischmann. Consisting of miniatures from all around the globe and dating from the sixteenth century to the twentieth, it has been a continuous research project to fully document each piece. I recently dug into the past of two preparatory drawings by Jean Baptiste Jacques Augustin of Antonio Arcos and his wife Isabel dating to the late 1820s.
First, a brief biography of the artist: Jean Baptiste Jacques Augustin was born in 1759 in Saint Dié, France. His father had planned to obtain a government position for his son; however, after it became clear that Augustin had a natural talent for art, he trained with the painter Jean-Baptiste-Charles Claudot. When Augustin began working as a portrait miniaturist in Paris he quickly gained fame and was noted for his exceptional draftsmanship. Art critics often wrote that Augustin was an "Elève de la nature et de la meditation" (pupil of nature and meditation). In 1824 Augustin was named "premier peintre en miniature" to King Louis XVIII. Augustin also trained a number of miniaturists, one of whom was Madeleine Pauline Du Cruet (1781–1865) who would become his wife. Augustin died of cholera at the age of 73 in 1832.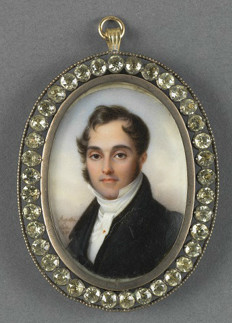 Augustin made at least four portrait miniatures of Don Antonio Arcos (1762–1851). Three copies of the same portrait (one is in the Art Museum's collection) that date from 1828 to 1830 and a larger miniature that was in a 2014 auction in Madrid, Spain. This 1827 preparatory sketch of Don Arcos is believed to have been made for the latter miniature, which has been in Spanish private collections since 1916. The 1829 drawing of Doña Isabel Arlegui Arcos (life dates unknown) was made for a miniature that paired with the Madrid portrait of her husband. Luckily, the two have been kept together all these years as they have moved through Spanish collections and auctions.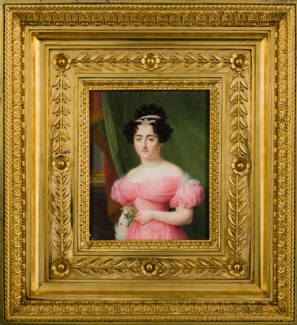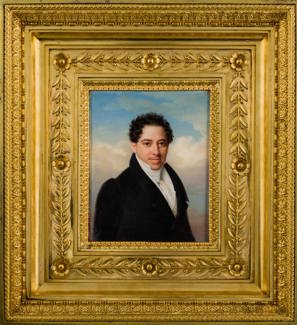 Both sketches of Arcos and his wife are well recorded in literature on Augustin, which is a rarity for preparatory drawings. They were passed down in the de Coincy family, descendants of tAugustin's wife, until they were sold in 1906 to financier, banker, and portrait miniature aficionado John Pierpont Morgan. Morgan had George C. Williamson write an extensive catalogue of his miniatures. The fourth volume notes that Morgan had two of Augustin's sketchbooks, from which the best drawings—including these two—were removed and framed for display.
On the sketch of Arcos, Augustin noted "Mr Arcos de Mexiqo" and then on Madame Arcos's sketch inscribed, "De Quito au / Mexique." This has led the incorrect assumption that the sitters were from Quito, Mexico. In his section on Augustin, Williamson drolly mentions that the artist's education had been "little enough, it is clear, for his inaccurate language and faulty handwriting, even in the days when he had attained the zenith of his popularity." Fortunately for me, Antonio Arcos was a man who had made a name for himself, and his history is now easily accessible through books on the internet.
Antonio Arcos was born in Andalusia, Spain, and joined the army. After Napoleon's defeat of Spain in 1809, Arcos defected to the French army. The opportunistic Arcos left the French army when Napoleon was exiled in 1814 and Ferdinand VII returned to power in Spain. He then made a circuitous route through England and the United States, eventually arriving in Buenos Aires, Argentina. Arcos joined the army of José de San Martín in Mendoza right before it crossed the Andes to free Chile from Spanish rule. In a busy 1817, Arcos obtained the rank of lieutenant colonel, is credited with designing the flag of Chile, and co-established a military academy, of which he was the first director. By the end of the Chilean war of independence, Arcos amassed a fortune which allowed him to marry Isabel Arlegui, a daughter of an aristocratic family in Chile. After the war Arcos ran a lucrative business that supplied the Chilean army. However, in 1822, when Supreme Director Bernardo O'Higgins began his fall from power (he would be deposed in 1823), the Arcos family saw the writing on the wall and immigrated to Paris, France. There, Arcos utilized contacts he developed while in the Napoleonic army to establish a successful financial business. Politics again forced the Arcos family to flee their home after the 1848 February Revolution, and they returned to Chile. In Santiago Arcos established the first Chilean bank, which failed within a year. Disillusioned, Arcos and his family returned to Paris, where he died in 1851.
Captions:
Jean Baptiste Jacques Augustin (1759–1832), Preparatory sketch of Monsieur Arcos, 1827, graphite, pen and ink, brush and wash, white gouache, and white chalk on paper, 6 1/8 x 5 1/8 in. (15.6 x 13 cm), Gift of Mr. and Mrs. Charles Fleischmann III, 2004.538
Jean Baptiste Jacques Augustin (1759–1832), Preparatory sketch of Madame Arcos, 1829, graphite, pen and ink, brush and wash, white gouache, and white chalk on paper, 6 1/8 x 4 15/16 in. (15.6 x 12.6 cm), Gift of Mr. and Mrs. Charles Fleischmann III, 2004.539
Jean Baptiste Jacques Augustin (1759–1832), Monsieur Arcos, 1830, watercolor on ivory, 1 11/16 x 1 ¼ in. (4.3 x 3.1 cm), Gift of Mr. and Mrs. Charles Fleischmann in memory of Julius Fleischmann, 1990.1788
Jean Baptiste Jacques Augustin (1759–1832), Don Antonio Arcos, 1826, watercolor on ivory, 6 5/16 x 5 1/8 in. (16 x 13 cm), private collection
Jean Baptiste Jacques Augustin (1759–1832), Doña Isabel Arlegui Arcos, 1829, watercolor on ivory, 6 5/16 x 5 1/8 in. (16 x 13 cm), private collection