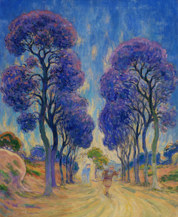 On the first Sunday of every month, CAM hosts Sketching Sunday.  We make sketching kits available at the front desk, which can be checked out for a $5 deposit (your money will be refunded when you return the kit).  Artists are also welcome to bring their own sketching supplies, too!  Each month, we create a light-hearted prompt that helps to provide inspiration for anyone who wishes to sketch.  We hope that you'll join us this Sunday, June 7th, when our theme is "The Purple One."
In celebration of Prince's 57th birthday, visitors are invited to sketch works in the CAM collection that relate to some of The Purple One's #1 singles.    Be sure to check out Tom Wesselmann's Screen Star(created in 1999) in G231 and Claude Schuffenecker's The Road Under Trees in G227.  Perhaps those trees were tinted by Purple Rain.  We also suggest driving your Little Red Corvette into G205 to sketch Willem Drost's Young Woman in a Feathered Hat–that certainly looks like a Raspberry Beret to us!  What other Prince-inspired artworks can you find?
After you're done, share your sketches with other Sketching Sunday artists on social media!  Snap a picture of your work and share it on Facebook, Twitter, or Instagram. 
Tag us: @cincyartmuseum #sketchingsunday